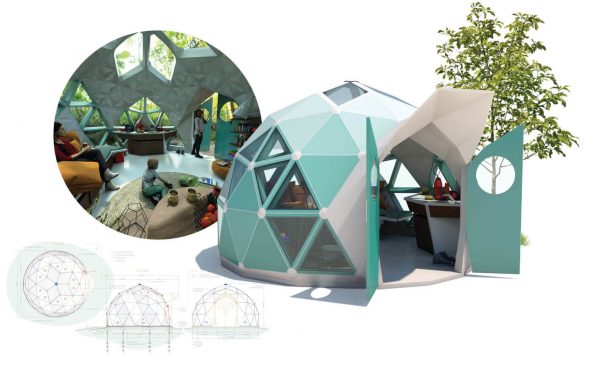 We recently caught up with Morgan Bierschenk, the founder and CEO at Geoship, a Washington-based regenerative village building platform, "owned by the people, in service to the Earth."
Geoship aims to transform the housing industry by "building the future of home." The company designs and produces bioceramic architecture and ceramic cement materials. It aims to create living environments that "resonate with nature and catalyze the evolution of consciousness."
Geoship offers regenerative architecture solutions at affordable costs and aims to "reconnect human communities with the natural world."
Geoship is currently seeking up to $1.07 million using Reg CF on StartEngine. The company is offering common shares at a pre-money valuation of $9 million. The Offering Memorandum is available here.
As of today, Geoship has raised just over $400,000 from 600 investors.
Crowdfund Insider: What is Geoship?
Morgan Bierschenk: "Geoship is a regenerative home and village building platform. We aim to design and produce affordable, regenerative, resilient, healthy homes and neighborhoods.
Our goal is to reconnect human communities and the natural world. Our social purpose is to create tools for healthy living in harmony with nature.
We are introducing the bioceramic geodesic dome to the world. Our technology merges the work of notable inventors — the Geodesic Geometry of celebrated American architect, systems theorist, author of over 30 books, designer, inventor, and futurist Buckminster Fuller and the Ceramic Crystal Chemistry of the legendary professor of material science Rustum Roy."
Crowdfund Insider: Why equity crowdfunding? How does this play into Geoship being a Social Purpose Corporation, a Multi-Stakeholder Cooperative, and a purpose-driven trust?
Morgan Bierschenk: "We love equity crowdfunding because it provides equal opportunity to access early-stage company investments, and directly addresses the problem of wealth inequality in society.
The perks on our equity crowdfund at https://www.startengine.com/geoship include early access, dome discounts, and the chance to win a free bio-ceramic dome. New companies are the biggest wealth generators on the planet. We're going to distribute that wealth through a profit-for-all cooperative model.
Developing a new technology market takes time. We built our first full-size engineering prototype in 2015. It's what the auto industry would call a 'development mule' to test various aspects of the product.
Rather than compromising our social purpose to generate traditional VC funding, we bootstrapped. We are organized as a social purpose corporation (SPC), a type of for-profit entity, a corporation, in some U.S. states, including our California home, that enables (but does not require) us to make decisions that benefit not only investors but also people and the planet.
We believe you should own the businesses you buy from, just for being a customer, and nature should have ownership just for supplying the raw materials. Thus Geoship is operating as a Multi-Stakeholder Cooperative, with plans to distribute ownership benefits to people and planet stakeholders (while protecting investor interests), and a purpose-driven trust will be established.
We like to call this a Profit-For-All Cooperative model, which 1) addresses the externalities of resource extraction, like pollution and climate change 2) serves as a strategic advantage in sales 3) creates a barrier to entry for competitors 4) is a fundamental way we operate integrally with our purpose."
Crowdfund Insider: How will your model compete against entrenched players in architecture, home development, and building materials?
Morgan Bierschenk: "Our model is a departure from entrenched models of architecture, development, and building materials. We are a vertically integrated home building company. Since our product is modular, the architecture is largely completed in a factory and tailored for each individual customer or development group.
In both architecture and home development, Geoship will offer software tools so customers can network into their own communities and democratize the design-build process. This approach fills our sales pipeline with motivated customer communities (potentially many years in advance of building).
Customer engagement begins with a learning journey. It continues into an online dome and village configurator to hone the vision and generate shareable media. The buying process begins with a refundable reservation deposit, followed by two down payments for design then production, and the final payment upon shipping the modular panels of bioceramic to the building site.
Delivery, installation, interior finishing, and mechanical systems are additional costs to the buyer. We plan to build an entire product ecosystem around the bioceramic domes.
Since our bioceramic panels bypass all of the existing product and material supply chains, building Geoships is more efficient than conventional box home building.
Roofing, tar paper, trusses, insulation, lumber, steel, concrete, adhesives, particleboard, drywall, paint, siding, and vapor barrier products are all replaced with bioceramic composites.
Our bioceramic (an inorganic polymer) enables applications across the built environment. This new family of materials is highly crystalline, flash cure at room temperature, and form strong molecular bonds with metal, wood, and concrete.
Unlike Portland cement, bioceramic composites could potentially last for thousands of years and sequester more CO2 than was emitted in their production. The raw minerals can be reclaimed from seawater desalination plants, wastewater treatment plants, and many other non-toxic waste stream sources. Bioceramic panels can be recycled into new bioceramic panels or even used as a fertilizer."
Crowdfund Insider: What are some solid current realities that will make potential investors more comfortable with investing in Geoship in today's challenging investment environment?
Morgan Bierschenk: "We have $5 million in reservations with deposits, so we feel confident we'll execute on those reservations once we start building. In the last 6 months over 3,500 potential customers have signed up to 'begin the journey' – a projected sales pipeline of over $500 million.
We also have 106 acres of commercial/residential land in Nevada City, CA, where we are planning a production plant, design campus, and up to 50 residences. The goal of the project is to demonstrate living in harmony with a fire ecology in a 500-year ceramic village.
Fireproof bioceramic domes could be the new go-to housing for fire-prone regions of California, Australia, and beyond.
We feel that we've proven the new market and validated the new technology and our partnership with Zappos is a good example. In early 2019, Zappos invested in Geoship, as a community partner, to demonstrate a scalable business model for transcending homelessness.
Our strategy combines Geoship regenerative architecture, with City Repair's transitional village building template, and Zappos' new work paradigm. We build transitional villages that embody powerful urban design principles — to strengthen the original agreements humans formed in the villages where we first came together — cooperation, community, and creativity.
For this project, our approach is unique in that growth is fueled by revenue, rather than by donations, making it scalable. To learn more about our Homes For The Domeless program, read this summary, which links to the full proposal we made to Clark County.
Based on the early embrace by our equity crowdfunders – we raised the first $100k in only 5 days – and despite the recent economic challenges from the global Coronavirus crisis, we've managed to keep fundraising."
Crowdfund Insider: Based on your current timeline and fundraising, when do you think your Equity Crowdfund investors will see ROI or be able to take advantage of the bonus rewards?
Morgan Bierschenk: "The investments through our equity crowdfunding campaign have enabled us to begin the process of pilot production. We have leased a new manufacturing facility and started purchasing all the equipment and materials we need to advance.

While our progress is hampered by the global Coronavirus crisis, when this passes, we expect to start making our bioceramic panels this year and start building homes for our current reservations in 2021.

Our crowdfund investors will be able to join the reservation list and take advantage of their bonus rewards once we start production. We also plan to create a secondary market for our shares after 3-5 years, which will become an exit opportunity for our investor community."

Have a crowdfunding offering you'd like to share? Submit an offering for consideration using our Submit a Tip form and we may share it on our site!

Sponsored Links by DQ Promote