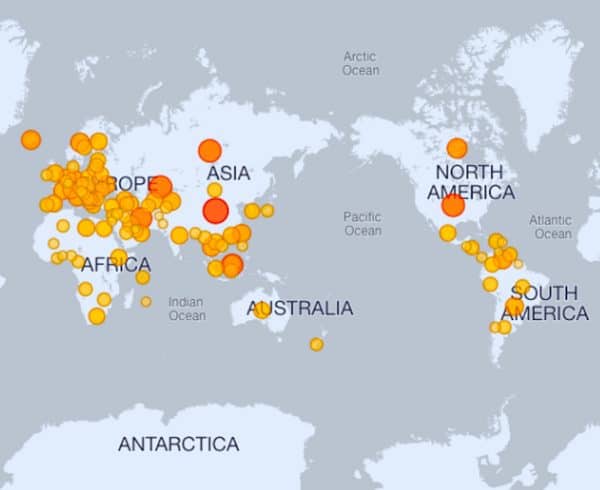 The Cambridge Centre for Alternative Finance (CCAF) has launched a Bitcoin Mining Map that tracks the creation of BTC. As we all know, Bitcoin just completed its periodic "halving" event when the creation or mining of Bitcoin is cut in half.
As one may expect, BTC mining is dominated by China with over 65% of mining occurring in the country. The majority of BTC mining (over 35%) is taking place in the Xinjiang region – an area about the size of Iran that is sparsely populated but is rich in natural resources including cheap energy.
After Xinjiang, Sichuan is next followed by Nei Mongol and Yunnan. While private cryptocurrency issuance may be banned in China, mining is not. The Chinese Bitcoin mining industry was granted a reprieve last year when the government decided it was ok to mint Bitcoin as cryptocurrency mining was removed from a list of activities that were scheduled for elimination by the end of 2020. This came as the government continued to warm up to blockchain in general, including the forthcoming Yuan based Central Bank Digital Currency (CBDC).
Following China, the United States is in 2nd place with just 7.24% of the mining activity and Russia is in 3rd place with 6.9%.

This is not the only really cool crypto-data tool provided by CCAF. Last year, CCAF launched the Cambridge Bitcoin Electricity Consumption Index (CBECI). This is where you can see all of the electricity needed to mine Bitcoin. Needless to say, it is quite a lot.

Sponsored Links by DQ Promote