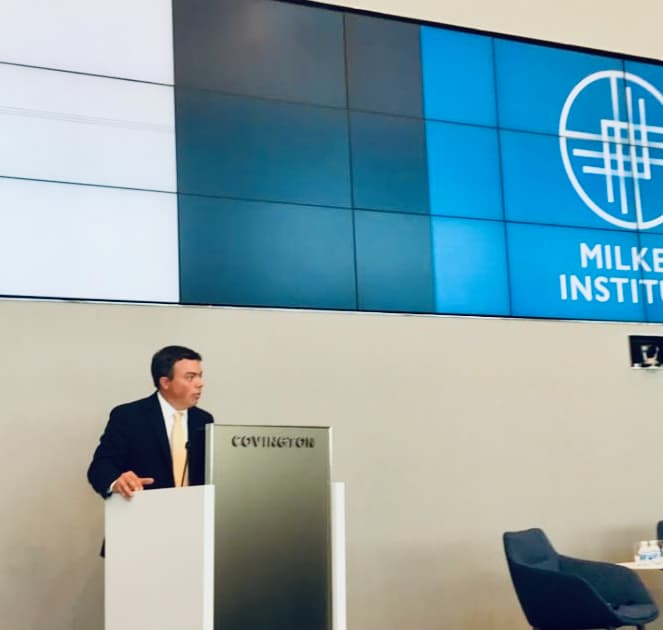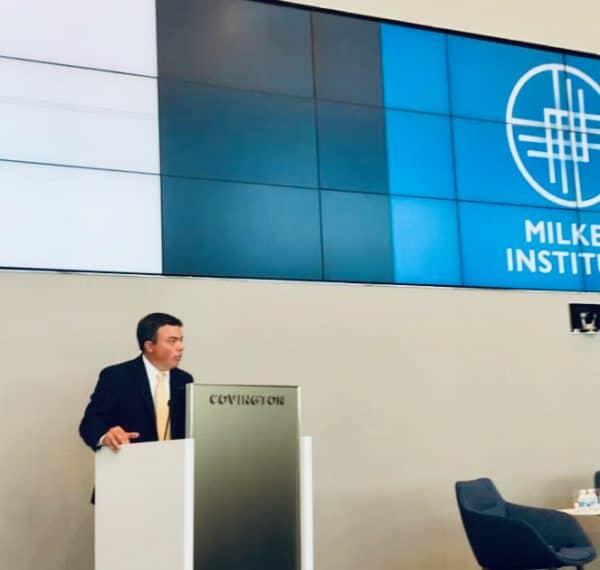 Jackson Mueller has long been a key voice and industry participant in the policy realm in regards to the Fintech ecosystem. Until recently, Mueller was the Associate Director, Fintech Program at the Milken Institute, Center for Financial Markets. Mueller's reports have long been a solid source of information on innovations in financial services and his tracking of Fintech legislation in the US was unparalleled.
Last month, Mueller announced he was moving into a new role at Securrency as Director of Policy and Government Affairs. Securrency is a Regtech/Fintech that is seeking to facilitate "a new financial services infrastructure to leverage the benefits of blockchain technology." Securrency is building an interoperable framework that is blockchain agnostic working with exchanges, asset managers, central banks and anyone else who wants to migrate to the digital asset future.
Following Muellers exit from Milken, Crowdfund Insider contacted him to learn more about his new role and Securrency's blockchain-based vision of the future of financial services. Our discussion is below.
---
Congratulations on your new position at Securrency. How does it feel to move on from Milken?
Jackson Mueller: First off, thank you for the kind words. I've enjoyed working with you and team over the past couple of years and I look forward to continuing to engage with you moving forward. This move certainly marks a new chapter in my life, and an evolution in my focus on the financial technology, or Fintech, space.
This move would likely not have happened had it not been for the Milken Institute in allowing me to take the reins of the Fintech program back in 2016 (the program was officially launched in 2014) and for opening up multiple opportunities to connect with a variety of individuals through the various conferences and external events that the Institute puts together. The Center for Financial Markets, led by Mike Piwowar, will continue to produce thought-provoking content on the Fintech space, so I'm looking forward to remaining in touch with the team and seeing what's next for the Fintech program!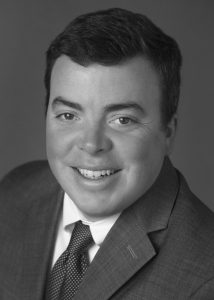 My move to Securrency also marks a new challenge and one that I'm looking forward to tackling head-on. As director of policy and government relations, I'll be working closely with executive leadership in crafting Securrency's message and developing a strategic roadmap that guides our message on and off Capitol Hill and for international audiences, as well.
The difficult part is being able to effectively translate the technical jargon and buzzwords into easily digestible formats for public consumption. I think this is essential for two reasons in particular:
1) Too often, there's a conflation of terms or a misunderstanding of terms that can lead to policies that do not take into account different models, technologies, and methodologies that can lead to negative ramifications for the industry at-large; and
2) We want political and regulatory buy-in (domestic and international).
It's as simple as that.
When Securrency was founded in 2015, we weren't looking to skirt or not adhere to regulations. Securrency was born with a compliance mindset right from the beginning. We have built technology capable of supporting a global digital securities market that is liquid, interoperable across new and old market infrastructures, and that respects (and is capable of responding to) regulatory structures within each country.
Crafting that message will certainly be a challenge, no doubt, but one in which I'm prepared to give all the work that went into crafting, promoting, and leading the Fintech program to where it is today.
Securrency is a Regtech/Fintech platform. What kind of services/platforms is the company providing?
Jackson Mueller: In short, Securrency is a financial markets infrastructure company whose primary mission is focused on enhancing capital formation and stimulating the global economy. Through our technology, we address several challenges commonly raised by stakeholders involved in the blockchain space, several of which were brought up during a recent Senate Banking Committee hearing, including privacy, identity, and interoperability.
For instance, our rules engine and patent-pending Compliance Aware Token framework create the conditions that not only facilitate the transfer of value but protect the privacy of that value, while ensuring such transactions comply with relevant securities regulations.
Securrency's technology helps to unlock liquidity by allowing users on one ledger to transfer securities tokens across ledgers (whether distributed or legacy), while simultaneously codifying multi-jurisdictional regulations to enable instantaneous clearing across borders.
This is a huge development and an industry-leading one at that. Trust and certainty are essential.
Since 2015, Securrency has been focused on developing the appropriate infrastructure and creating the necessary conditions that help facilitate the financial industry's adoption of blockchain technology.
What types of traction does Securrency have? Are you working with big finance? Fintechs? Both?
Jackson Mueller: We are working closely with several institutions, international organizations, and regulatory authorities from multiple jurisdictions on use cases for compliant digital assets. For instance, we were, and continue to be, directly involved and engaged in efforts led by the Financial Action Task Force (FATF) on the development of messaging standards for the transfer and exchange of digital funds applicable to financial institutions, virtual asset services providers (VASPs), among other entities (the so-called 'Travel Rule').
Similarly, we are engaged with the World Bank on a project that covers several of the topics I raised earlier including digital identity, capital formation, and compliance. We are also engaged with WisdomTree, the strategic investor in our Series A round, on issues related to custody and transfer authority, among other issues. Further, we are closely working with several regulatory authorities towards the development of a pilot project covering cross-border issuance and trading of digital assets.
We are a small team that consistently punches above our weight so keep on the lookout for updates on these developments in the near future.
You are very much a Fintech policy wonk. Will you be leveraging that skill at Securrency?
Jackson Mueller: Absolutely. I will remain actively focused on US and international policy. The only difference here is that my focus is a bit narrower compared to my time at the Institute where I focused on everything under the ever-expanding umbrella term, Fintech. Does that mean my hands will get a rest from the keyboard? Unlikely.
Many people have commented on the accelerated digital transformation brought on by the COVID-19 pandemic. What are your thoughts on this? How do anticipate Fintech evolving in the post COVID world? Can incumbent financial services firms keep pace?
Jackson Mueller: We were already seeing an accelerated digital transformation prior to COVID-19, though the pandemic certainly has sped up the process even further. This shouldn't come as a surprise, and, in many cases, should be welcomed.
For instance, the pandemic has unmasked the problems and challenges governments and financial institutions face in effectively responding to a crisis of such magnitude due, in part, to legacy infrastructures. There are significant cracks in these systems and my hope is that even before the dust settles, we take a long, hard look at how this 'accelerated digital transformation' must also include appropriate industry and policy responses, and alternatives, to address these cracks so that we are better prepared to respond to the next crisis.
Further, and as other thought leaders have already mentioned numerous times before, we also need to really be thinking about appropriate policy responses to address the very real concern that as digital transformation accelerates, certain populations may not be able to keep up. How do we ensure that those that currently do not rely on digital means to transact, or don't have access to this digital transformation, are not left behind?
I am certain you have seen the moves by the Office of the Comptroller of the Currency (OCC) and digital banking. What do you think of current leadership embracing Fintech innovation?
Jackson Mueller: It is great to see certain regulators pushing the envelope to responsibly adapt to the changes taking place in our financial services ecosystem, and the broader economy. In the US, we're starting to see discussion move beyond the potential pros/cons of certain technologies to regulators developing pilots and testing assumptions, which I think is critical if we are to understand these technologies further and what they are capable of.

We were very much so interested to hear of Brian Brooks being tapped as Acting Comptroller of the Currency. It's great to see an experienced and accomplished individual from the tech sector take the reins of a financial regulator. Brian's ideas for a payments charter are certainly noteworthy and we look forward to seeing (and reacting to) what comes out of the OCC during his tenure there.

Sponsored Links by DQ Promote