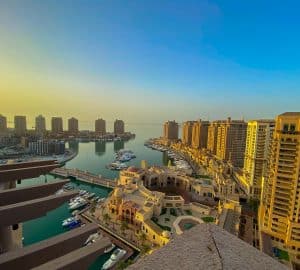 Qatar has a population of around 2.5 million, however, there are only around 300,000 to 400,000 Qatari citizens, as the country is home to more than 2 million expatriates.
These expats are from all over the world, including the US, the UK, and other leading European nations. Notably, Qatar has the highest per capita income in the world. The United Nations has classified Qatar as a nation of very high human development and it's widely known as the most technologically advanced Arab nation.
Qatar's high-income economy is supported heavily by its vast natural gas reserves and oil reserves. While most Middle Eastern countries like Kuwait and Saudi Arabia have relied heavily on their oil reserves and haven't significantly diversified their economies, Qatar has taken the lead in the MENA region when it comes to working with business leaders globally in order to expand its economy beyond just the oil and gas sector.
Qatar has been focusing on developing its Fintech economy with the help of the UK and other major contributors to the financial technology sector.
Yousuf Mohamed al-Jaida, the chief executive at the Qatar Financial Center (QFC), recently noted that the Middle Eastern nation aims to tap the potential of the Fintech industry in Bangladesh, India and Pakistan.
Yousuf said that Doha should take advantage of its "solid" business relations with these countries.
He pointed out that the first half of this year, which saw the world struggle to cope with COVID-19, saw increased Fintech adoption, because most people have been using digital platforms and services as many physical locations have shut down.
Yousuf argues that this could be a great time for local businesses in Qatar to further develop the nation's Fintech framework and regulatory environment.
He remarked:
"With Qatar's financial technology sector still in development stages, Fintech enjoys an unsaturated market bursting with opportunities for cutting-edge financial services and innovation for both institutions and consumers alike."
The QFC will be working with the Qatar Fintech Hub in order to establish a strong community of Fintech entrepreneurs, industry experts, regulators and investors in the country, Yousuf confirmed.

He said that this should help establish "significant" developments and business opportunities in the country.

The QFC supports several multinational Fintech companies such as Instimatch Global, Fintech Network and Luxembourg's Fineon Exchange.

The QFC is also home to QPay, which is the largest fintech firm in the country.

The QFC maintains a diversified portfolio of business clients, who have helped with establishing a strong Fintech community in Qatar. The QFC aims to provide lucrative opportunities for Fintech partnerships, while supporting the local banking sector.

Sponsored