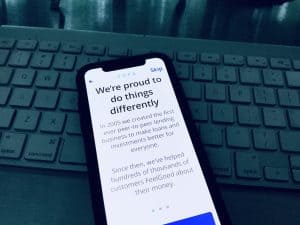 UK-based Zopa, a digital bank and online lender, has reportedly started accepting credit card applications, as it continues to expand its line of products and services.
The company is offering a credit card with annual percentage rates starting from 9.9%, however, there's a representative APR of 34.9%. Customers may access a minimum credit limit of £200 and a maximum of £1,500. At present, Zopa's credit card is in its soft-launch and other features may be added later on.
The credit card may be appealing to customers who are interested in being able to apply for the card and manage their transactions via a user-friendly app. Its users will get timely payment notifications so that they can keep track of how their funds are being spent.
There are no extra fees or charges for international spending except for the standard exchange rate. But the card doesn't come with a balance or funds transfer option.
Zopa will be offering interest-free purchases for 56 days.
The actual applicable rates and credit being offered will vary depending on each customer's profile, however, Zopa does provide an eligibility checker tool that reportedly won't affect the applicant's credit score (when they check).
This new feature might seem like a good deal, but there are other options in the market that may also be worth considering. For instance, M&S Bank in the UK is providing interest-free spending to all its credit card holders for up to 20 months along with 19.9% APR. Meanwhile, Virgin Money is providing a 22-month interest-free balance transfer card, which also offers interest-free purchases for 3 months.
Zopa also recently launched its fixed term savings accounts which are available to all UK savers.
The company states:
"We're bringing greater competition to the savings market so that people can get the most out of their money."
As covered last month, Zopa published the interest rates affiliated with its savings accounts. According to a note from the Fintech, savers may generate interest from 1.05% to 1.3% – depending on the term.

Zopa's Fixed Term Savings accounts are now available with terms from 1 to 5 years. Zopa states that savers may set up an account in just four minutes with a minimum deposit of £1000. The accounts are protected by the Financial Services Compensation Scheme (FSCS) up to £85,000.

Zopa became a fully-licensed bank in June with the savings accounts being the first affiliated product. You may expect a growing portfolio of services from the digital bank similar to what other UK based digital banks are offering.

Zopa, the first peer to peer lender to launch in the UK, may also benefit by enabling savers to fund loans as well.

Zopa Bank Limited is authorized by the Prudential Regulation Authority and regulated by the Financial Conduct Authority and the Prudential Regulation Authority.

Sponsored Links by DQ Promote