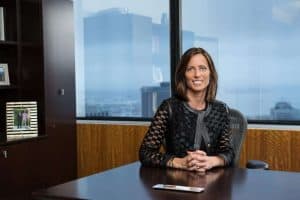 Adena Friedman, President and CEO of Nasdaq, the world's second-largest stock exchange with a market cap of over $17 trillion, says that Nasdaq began transforming financial markets with the launch of the very first electronic stock market back in 1971.
Friedman notes:
"From day one, we recognized the massive impact technology could bring to the capital markets. Our teams are now embarking on a cloud-centric strategy, which is guiding how we think about everything – from data management to product development and so much more."
Friedman believes that Cloud technology will play a key or transformative role in the global financial markets in the future. Friedman, whose recent comments came during Business Insider's Global Trends Festival (held on October 19, 2020), said that we need to start thinking about the latest technologies such as the Cloud which can become "the future of the industry."
Cloud-powered IT solutions are being increasingly adopted by companies and businesses across the globe. As reported recently, Regtech firm Shield has chosen to join the IBM Cloud for Financial Services ecosystem.
In a recent interview with Crowdfund Insider, Eran Noam, VP Global Sales and Business Development at Shield, noted:
"At a high level, we are starting to see financial institutions transferring to the Cloud. Five years ago, it was a big no-no, but this has changed significantly especially after the unprecedented changes to working since the 2020 pandemic."
He added:
"Things have had to change to adapt to the new ways of working, so financial firms are making their journey towards the Cloud. IBM has decided to focus on financial institutes, recognizing this is a big opportunity area for Cloud services, and has launched an innovative and unique offering, IBM Cloud for Financial Services. This has been developed to address the needs of financial businesses in terms of security and practicality when it comes to using Cloud services."
Established public Cloud service providers such as Amazon Web Services and Google Cloud have been offering solutions to major operators including the CME Group, Deutsche Borse Group, and Nasdaq (among many others).
Friedman has noted that "more and more, I would say, workflows around the trade, are already going into Cloud applications. And almost all of our services and applications outside the trade are on the Cloud today."
She also mentioned:
"Do I think in 10 years, that many of the markets around the world, including Nasdaq, could and should be able to leverage cloud to operate their actual trading activities? The answer is yes, I do."
Friedman believes that it really comes down to leveraging "hyper low-latency, hyper resilient, high scalability technology" which the Cloud can offer. She also revealed that Nasdaq may be planning to partner with several Cloud providers in the coming years.

Sponsored