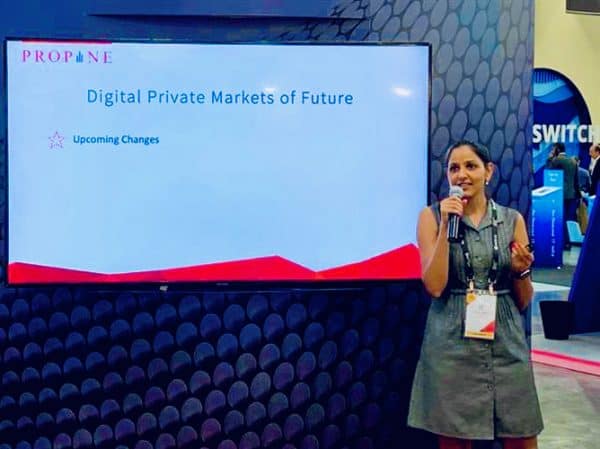 We recently connected with Tuhina Singh, Founder of Propine, a comprehensive securities services provider for digital securities. Singh previously worked as an options trader and has developed derivatives trading platforms from scratch.
Crowdfund Insider previously reported that Propine is the first independent digital asset custodian to be granted a Capital Markets Service Licence by the Monetary Authority of Singapore (MAS). Propine provides custodial and asset servicing solutions to both accredited and institutional investors offering an end-to-end solution for a Digital Security Offering. Before receiving its license, Propine was a participant in the MAS Fintech Regulatory Sandbox.
She got into the blockchain space back in 2015. When Tuhina began trading digital assets, she realized that the industry needed proper regulations and reliable infrastructure (including custody solutions) to thrive. Tuhina now manages a successful digital asset custody business that aims to serve major markets across the globe. Our conversation is shared below.
---
Crowdfund Insider: Propine was accepted into the Monetary Authority of Singapore's (MAS) Fintech sandbox program.
What were some of the benefits of taking part in this type of program? Is it helping you with your business at this time?
Tuhina Singh: Security tokens are regulated through the full scope of security regulations. Hence, many of the purported advantages of this asset class are significantly diminished if the infrastructure providing these services is not regulated and compliant. Besides, there has been considerable uncertainty in the past as to how a particular security token should be considered within the law. Addressing these concerns has meant the involvement of a variety of actors – governments, central banks, and private companies.
Now there are clear signs that traditional market infrastructure is adapting to the token economy, as seen in the example of Propine receiving traditional CMS (Custody) license and our acceptance into MAS's Fintech Sandbox program.
Thus, this event has been a watershed moment not just for Propine but has served to move an entire industry forward. It places Singapore at the forefront of innovation in technology and developing regulatory frameworks. MAS sets a very high standard in accepting companies in the fintech sandbox, ensuring that only truly innovative and sound companies are accepted.
Consequently, Propine has had a virtuous knock-on effect of increased credibility and reliability which shines through in a sea of service providers. It has enabled several hesitant but eager institutions waiting on the sidelines, to be able to transact with digital securities.
We have noticed a distinctly warm reception from capital market players owing to the license which has helped us forge many partnerships as many regulated institutions are unwilling or unable to work effectively with unregulated players (unless they're just a technology service provider).
Such an arrangement takes care of the technology innovation, however leaves the regulatory and legal burden on their clients to clear. Propine's distinction has been to create a solution that removes the most vital risks – that of regulations and technology, and building a rock bed on which the foundations of the security token ecosystem will be erected.
Crowdfund Insider: The COVID-19 pandemic has created many different socioeconomic challenges for individuals and businesses across the globe.
How has your company been affected by the Coronavirus crisis from when it began this past spring and how is it doing now?
Tuhina Singh: The pandemic has been a classic black swan event of the decade. Being closer to the epicentre, we became aware of the unfolding situation way earlier in January and by Feb first week, our company went into "100% work from home" mode. It allowed us to stress test our business continuity plan (BCP) plan and understand what gaps were there if it became mandatory under a complete lockdown. We ensured that Propine could fully function and deliver solutions even when full lockdowns were being observed worldwide.
It was a very good validation of our solution architecting as well as how the company's operations have been structured. We could see how making certain choices to be fully digital has put us ahead of several of our traditional competitors in financial markets when their employees were still waiting for up to two weeks to be able to log into their systems from home.
Of course, as the pandemic took hold in Europe and worldwide lockdowns started, everyone, including our customers decided to take a wait-and-watch approach, which was wise under the uncertain environment at that time. Some of our earlier deadlines of going live slipped further away towards the end of this year/early next year. This also caused us to postpone our exit from the sandbox from Aug 2020 to Jan 2021.
However, since June, as the world is becoming accustomed to living with this adversity, we have seen the market bounce back rather strongly. In fact, it wouldn't be an overstatement to say that we are now experiencing a tailwind as it has become extremely clear that every aspect of the world is going digital in an accelerated manner. Capital markets are moving headlong in that direction under new acceptance of "go digital or go obsolete".
Crowdfund Insider: Please tell us about the main products and services that you offer. What other services might you consider providing in the foreseeable future?
Tuhina Singh: Currently, our services include:
Custody and asset servicing for digital securities
Propine has developed a robust institutional-grade multi-signature custody solution on a blockchain to safeguard digital assets. Propine will custody the digital securities on behalf of its customers by managing the ownership and control of the cryptographic keys.
Propine has legal and operational protocols to immobilize the underlying asset and manage digital assets held in custody. This resolves the issuer's concern of providing a safe environment for these digital securities, thereby making capital raising proposal attractive.
Investors are comfortable with holding their assets with an independently regulated custodian. Exchanges are benefitted by Propine's technological architecture, which is agile, chain neutral, and integrated. Our solution also incorporates asset servicing and reporting solutions for investors. Corporate actions, cap table management, and voting on blockchain are the key components of the asset servicing solution designed by Propine to support the issuers' post-issuance. Propine also provides an integrated solution to manage both fiat and digital securities for exchanges, issuers and investors.
Issuance Services:
Development and deployment of Smart Contracts: – Propine develops smart contract(s) for primary issuances based on the subscription agreement and instructions provided by and on behalf of the Clients (Issuers) using its Blockchain solution and manage technological aspects of its issuance.
Cap-table Management: – Propine's solutions can provide updates on cap-table in real time and reconciliation with an offline copy at a set frequency, which will be mutually agreed between Propine and its Clients.
Issue authentication Service for private markets: – Propine will manage immobilization of physical securities. By immobilizing physical securities, Propine will create the foundation for establishing security capabilities from three fundamental dimensions including identity, access control, and privacy; thereby preserving the integrity of the data for private security token issuances.
Crowdfund Insider: The cryptocurrency and blockchain space is not properly regulated because the technology might be very new and lawmakers may not fully understand it yet.
How can we come together as an industry to help? What is Propine doing to help bring more regulatory clarity to the digital assets sector?
Tuhina Singh: First of all, we all know that without clear regulations, cryptocurrency and blockchain innovation will get held back. Entrepreneurs will be hesitant to try the new approach of raising funds as they are afraid of breaking the law and getting into trouble. On the other hand, investors will be confused further with uncertainty in valuations and thus abstain from investing.
I believe that there's a clear three-prong approach that all of us can play our part in ensuring more governments will not treat crypto as a threat but instead, see the potential in the technology behind it and thus to bring greater crypto regulations clarity.
a. Collaboration with regulators i.e. sandbox, where both parties can learn from such projects, ensuring prevention of money-laundering while protecting buyers and the financial system.
b. Working with clients and through successful case studies that serve as validation for the digital securities adoption to the capital market ecosystem.
c. Everyone in the industry must play a part in the process of edification to the masses so that more are aware and will be converted into believers/supporters as well.
At Propine, we are very active in all three aspects and hopefully, more players in the capital markets will join in this movement.
Crowdfund Insider: You've previously noted that the digital currency market may be valued at around $1 trillion within the next few years.
How can you prepare for this type of growth as a company? Do you think you will be able to scale your operations to meet the (expected) increased demand for crypto-asset custody services in the future?
Tuhina Singh: Scaling a business doesn't come free and certainly an expensive exercise. In preparation for such growth, Propine continuously evaluates its business strategy and plans for its expansion so as to ensure that we will be ready to embark on this journey and have the means of doing so when the time is right.

In addition, we need great support and guidance from the government, partners and customers. But most importantly, we aim to continue investing in our people and technology to ensure that we consistently own our leadership space, providing the most effective solutions, future-proofing and serving our customers challenge status quo.

Sponsored Links by DQ Promote