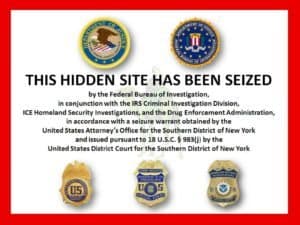 The US government is looking to set a new record of sorts. The Department of Justice has filed a civil action to seize Bitcoin valued at more than $1 billion, the largest seizure of its kind ever.
As has been widely covered, a long slumbering digital wallet said to be affiliated with the notorious marketplace known as the Silk Road saw 69,369 BTC moved to a government-controlled wallet. The action was facilitated by Chainalysis, a digital asset firm enlisted by the Feds to track down nefarious crypto activity. The wallet is now called the "Silk Road Marketplace Seized Funds 2020-11-03" and, pending court action, may conclude in a transfer of the entire value to the US government.
In a release, US Attorney David L. Anderson stated:
"Silk Road was the most notorious online criminal marketplace of its day. The successful prosecution of Silk Road's founder in 2015 left open a billion-dollar question.  Where did the money go?  Today's forfeiture complaint answers this open question at least in part.  $1 billion of these criminal proceeds are now in the United States' possession."
IRS-CI Special Agent in Charge Kelly R. Jackson added:
"The Washington DC Cyber Crimes Unit is uniquely specialized in tracing virtual currency transactions and we will continue to hone our skills to combat illegal activity."
The DOJ complaint filed in the US District Court, Northern District of California highlights the illicit services offered by the now-shuttered Silk Road market:
During its operation, law enforcement agents made over 100 individual undercover purchases of controlled substances from Silk Road vendors. The substances purchased in these undercover transactions have been various Schedule I and II drugs, including ecstasy' cocaine, heroin'  LSD, and others. Samples of these purchases were laboratory-tested and have typically shown high purity levels of the items that were advertised by Silk Road. Based on the postal markings of the packages in which the drugs arrived, these purchases appear to have been filled by vendors located in over ten different countries' including the United States. Law enforcement agents also made undercover purchases of hacking services on Silk Road, including purchases of malicious software such as password stealers and remote access tools.
Contemporaneous with the seizure of Silk Road, there were 159 listings on the site under the category "Services." Most concerned computer services: for example, one listing was by a vendor to hack into Facebook' Twitter, and other social networking accounts of the customer's choosing' offering that "You can Read, Write' Upload' Delete' View All Personal Info"; another offered tutorials teaching "22 different methods" for hacking ATM machines. Other listings offered services that were likewise criminal in nature. For example' one listing was for "HUGE Blackmarket Contact List," which described lists of "connects" for "Services" such as "Anonymous Bank Accounts," "Counterfeit Bills (CAD/GBP/EUR/USD)," "Firearms + Ammunition'" "Stolen Info (CC [credit card], Paypal)'" and "Hitmen (10+ countries)."
After being convicted in 2015, the Silk Road creator Ross Ulbricht is doing time in federal prison.
The complaint further alleges that in 2020 agents of the IRS CI used a third party bitcoin attribution company to analyze Bitcoin transactions executed by Silk Road and were able to identify 54 previously undetected bitcoin transactions executed by Silk Road, all of which appear to represent Bitcoin, which was the proceeds of unlawful activity, that was stolen from Silk Road in or about 2012 and 2013.
The complaint alleges that these funds were traced to a bitcoin address.  Further investigation of that bitcoin address by the United States Attorney's Office and IRS CI agents revealed that the funds were connected to "Individual X."  The complaint states that Individual X had hacked the funds from Silk Road.
While the headline is the amount of Bitcoin being seized the moral to the story is that by using sophisticated firms like Chainalysis it is difficult to cover the blockchain tracks of illicit crypto activity. While governments everywhere have been slow to get up to speed when it comes to digital assets, those occurrences are getting smaller in the rearview mirror of law enforcement activity. The days of using crypto for illegal activity is quickly coming to a close.
---
USA v. Crypto Wallet complaint_crypto_seizure


Sponsored Links by DQ Promote