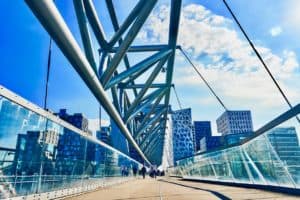 The reserve bank in Norway has confirmed that it's not in a rush to issue a digital Krone, even though a recent research study indicates that cash usage in the country is now down to only 4% of all financial transactions.
Declining cash usage is one of the main reasons why central banks have considered issuing a virtual currency or CBDC.
Ida Wolden Bache, deputy governor at Norges Bank, the nation's central bank, revealed (during a recent speech at a payments conference in Oslo) that the declining use of cash in the country was uncovered in a study performed during the COVID-19 pandemic (around three weeks ago).
Bache noted:
"Only 4% of payments are now made using cash. This share is approximately the same as in spring, and considerably lower than before the pandemic. To our knowledge, the share of cash payments is lower in Norway than in any other country."
Norway, like many other countries in Europe and other jurisdictions, has been looking into the feasibility of issuing its own central bank digital currency or CBDC. The reserve bank will be releasing the results of its study next year. It will include the findings from a research study that the bank performed on CBDCs and how they can be implemented using a range of technical solutions.
Bache added:
"The prospective introduction of a CBDC is still some way off. The lack of urgency reflects our view so far that there is no acute need to introduce a CBDC. The introduction of a CBDC could have considerable consequences in a number of areas. Our decision must be well-informed. Introducing a CBDC will involve such a substantial change in the monetary system that it will require a political decision. It could also involve the question of whether the Central Bank Act would have to be amended."
While a CBDC could help Norway's economy, the Norges Bank is currently more focused on enabling more efficient real-time payments in the nation's private and the public sectors. Instant payments have now been widely adopted by Norway's retail consumer segment because of bank-backed mobile payments solutions like Vipps. But these types of payments platforms have not been widely used in Norway's business-to-business marketplace. This is why the nation's reserve bank might consider serving as a payment system operator so that it can directly settle transactions.
Bache further noted:
"Two alternatives for real-time settlement in Norges Bank are being considered. The first alternative is to establish a system whereby Norges Bank is itself responsible for management, development and operation. The second is to join the Eurosystem's TIPS solution. Payments would then be settled in TIPS in NOK on behalf of Norges Bank. Sveriges Riksbank decided to join TIPS earlier this year."