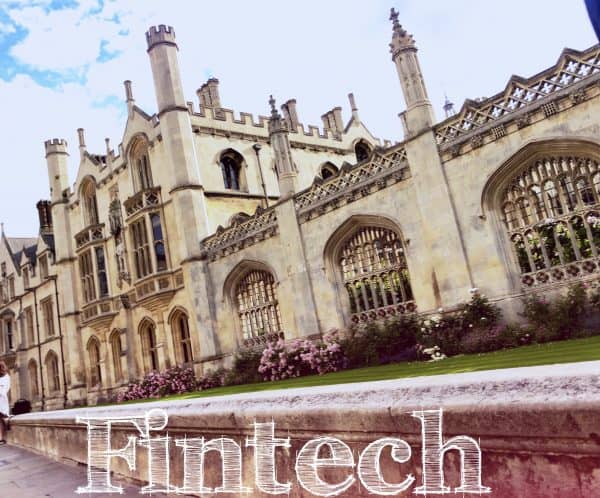 The Cambridge Centre for Alternative Finance (CCAF), along with its partners the World Bank and the World Economic Forum, hosted a presentation this week outlining its findings in a study reviewing the COVID-19 pandemic and its impact on the Fintech industry.
The survey was launched several months back when it became clear that COVID-19 was quickly becoming a global health crisis compelling lockdowns and remote work in an attempt to slow the spread of the highly infectious disease. Fintech platforms have been dramatically impacted by the coronavirus with many experiencing accelerated growth as part of the overall digital transformation occurring in financial services. The Global Covid-19 Fintech Market Rapid Assessment Study surveyed approximately 1400 Fintechs operating in a diverse range of financial services to gauge how the pandemic has impacted digital financial services firms. The CCAF survey held three specific goals:
First, the research looked at the impact of the global pandemic on Fintech markets – understanding how Fintechs are performing financially based on their operating model and jurisdiction among other criteria
Second, they studied the responses of these organizations in shifting their products and operations throughout the pandemic –  seeking to understand how these companies are dealing with remote working measures and a more digitized economy
Finally, to identify issues Fintechs are facing on a regulatory front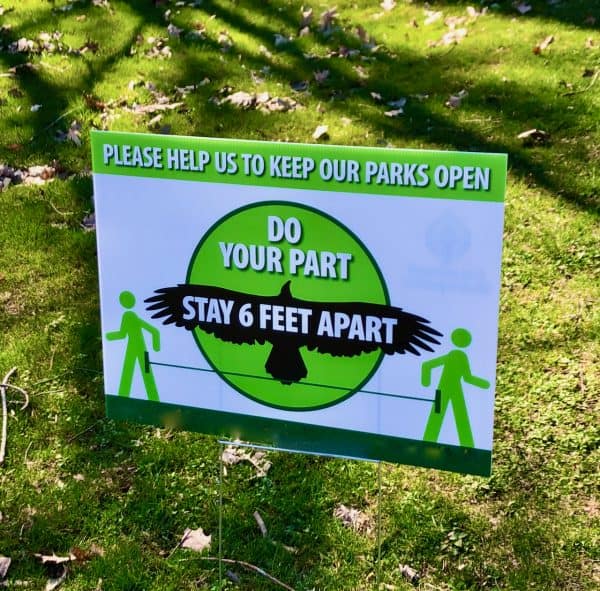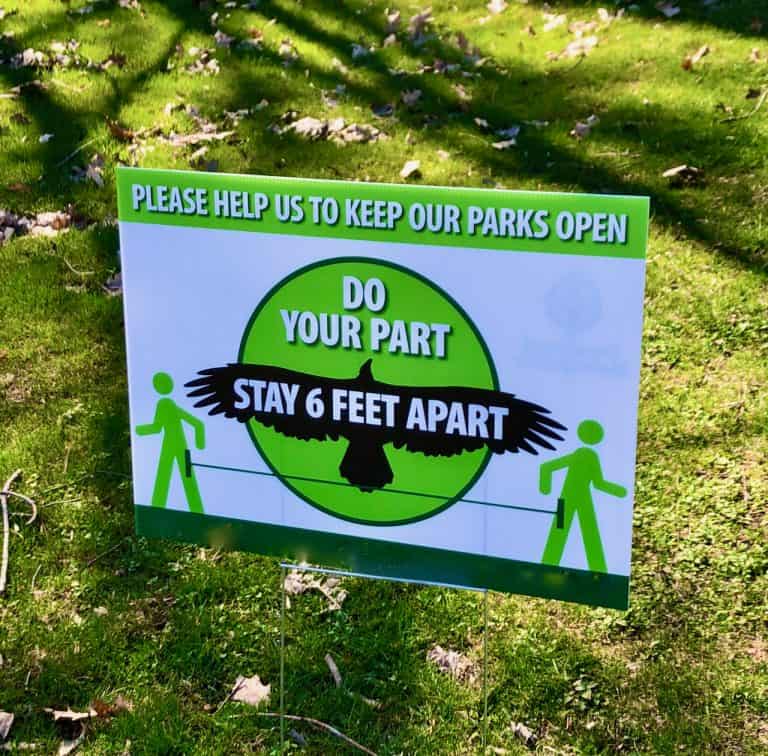 As one may anticipate, the Fintech industry is performing pretty well during the health crisis with the singular exception of online lending that saw an 8% decline in activity when comparing H1 2020 to H1 2019. CCAF reports that this sector experienced an approximate 10% increase in defaults as borrowers struggled as the coronavirus spread – understandable in light of the economic challenges.
According to the report, the top sectors of Fintech in regards to percentage growth in transactions are as follows:
Digital custody – 36%
Digital asset exchange – 33%
Digital savings  – 26%
Wealthtech  – 24%
Digital payments – 21%
Anecdotally, there have been some prominent examples of the rapid rise in Fintech services as consumers and businesses were forced to adapt to a new way of existence. Digital payments that are contactless is a clear winner. The Robinhood phenomenon has enticed a new generation of investors to trade online.
Regarding how the various regions are performing the UK was the only sector that saw a transaction volume decline – perhaps due to the oversized impact of digital lending. Otherwise, all other reviewed regions experienced an increase led by the MENA region (Middle East North Africa) rising by 40% and followed by North America and South America (both increasing by 21%).
It is interesting to note that jurisdictions that experienced more stringent COVID protocols such as remote work requirements and business closures, saw higher digital finance transactions. CCAF said that "the higher the COVID-19 stringency, the higher the adoption of Fintech services. The increased adoption is not necessarily caused by the pandemic, but there is a direct correlation between strict lockdowns and increased adoption of Fintech services."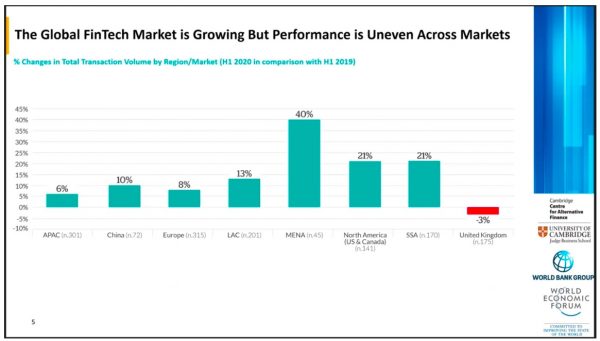 Many Fintechs launched new products or adjusted services due to the pandemic, adjusting product supply as demand increased or changed.
Regulatory challenges remain a hurdle as many Fintechs indicated they are in need of more regulatory support and faster approvals for financial services.
CCAF said that retail facing Fintechs, in particular Digital Payments, Lending, and Banking, were among the most agile verticals to implement changes to their offerings with a vast majority making changes.
Regarding capital formation, CCAF reported that approximately 40% of "Digital Capital Raising Platforms" indicated that they had been hosting COVID-specific offerings – something Crowdfund Insider has reported on in the past.
One area that may be viewed in a disappointing light is that government entities have been slow to leverage the agility of Fintechs to deliver services during COVID as some governments instituted business support programs to backstop the sliding economy.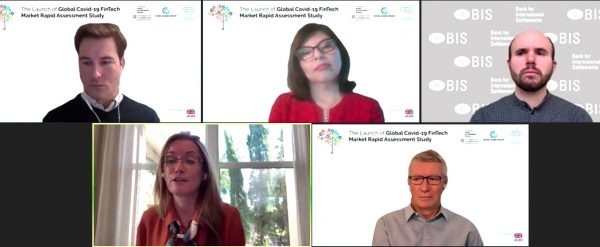 A panel followed the presentation of the data generated by the survey with some interesting comments emerging.
Blythe Masters, the former CEO of Digital Asset – now at Motive Partners, noted that while the US is a highly developed country there are still 55 million people or 22% of the population that are unbanked or underbanked. A pretty astounding number. Regardless, Masters said that COVID has accelerated digital transformation in financial services by at least 5 years and perhaps up to 10.
Jon Frost, Senior Economist, Innovation & the Digital Economy, Bank of International Settlements, added that there is a risk of a digital divide and there is some work that needs to be done – alluding to the fact that certain demographics or regions lack access to digital financial products.
Fragmentation in products, more specifically Regtech, is inhibiting growth, said Robert Wardrop, co-founder and Director at CCAF.
Ana Fiorella Carvajal, Lead Financial Sector Expert at the World Bank Group, said please streamline the regulation and provide faster authorization – especially in emerging markets.
And what about the growth in digital assets and digital custody? Masters believes that a maturing industry with more institutional involvement is aiding sector growth. She said that over 8% of Americans own or have owned Bitcoin – a percentage that is increasing.
What is obvious is that Fintech adoption is accelerating and the digitization of finance is inevitable. COVID is acting as an accelerant fueling this digital transformation that bodes well for consumers as well as business – beyond some avoidable hurdles.
The full report will be released later this month. Stay tuned.