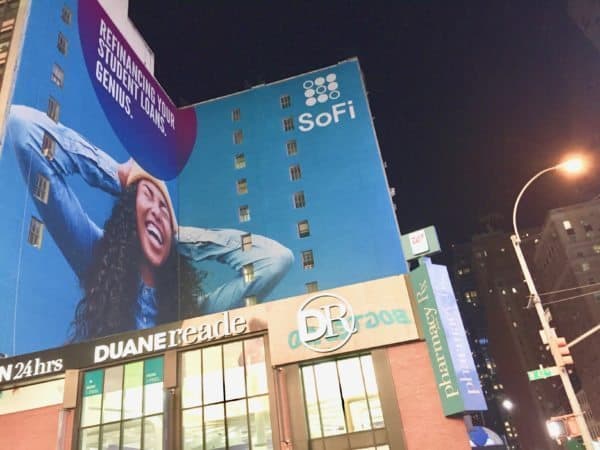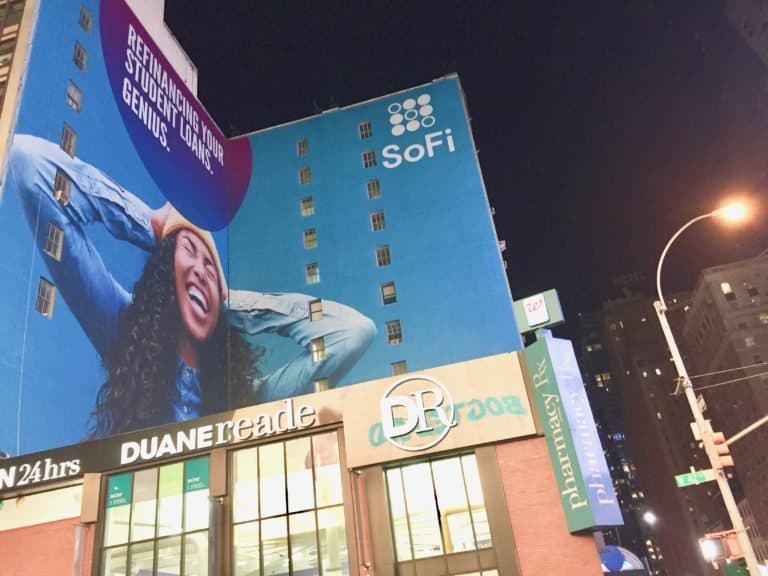 Chamath Palihapitiya, CEO of Social Capital (NASDAQ:IPOE), has announced that SoFi will go public via a SPAC deal that is worth $8.65 billion via CNBC
According to a Tweet by Palihapitiya, his thesis is based on the challenges of incumbent banks and the benefits of Fintech and digital banking.
Palihapitiya says that SoFi has built a best in class digital banking solution. SoFi reports 1.8 million predicted to top 3 million users in 2021. The company was launched as a student loan refinancing platform but, over time, has iterated and expanded into other verticals and markets. Today, SoFi is more of a digital bank and investing platform with a dedicated community than an online lender. It was reported in mid-2020, that SoFi has filed for a national banking charter.
Anthony Noto said that he and Palihapitiya are super aligned with the goals of SoFi.
"Setting really high, loft goals," said Noto. "We can really do a much better job of explaining the opportunity together."
Noto predicted SoFi would do a lot of things together strategically with Social Capital. He added that they spent 2020 preparing for this event.
And why a SPAC versus an IPO? Noto says a SPAC will allow them to better educate investors – a process that is superior to a traditional IPO.
Additionally, deal certainty is a feature of a SPAC that Noto said drove their decision. He pointed to S-1s filed by firms that, in the end, do not get done.
In 2020, SoFi's revenue was said to be at $621 million. In 2025, SoFi anticipates revenue of $3.67 billion.
SoFi expects to hit profitability in 2021 delivering $27 million to the bottom line. In 2025, net income is predicted to rise to $1.17 billion.
SoFi has built the AWS of Fintech said Palihapitiya. He also pointed to the fact that SoFi not only serves consumers but is also in the enterprise space providing services to Fintechs like Chime.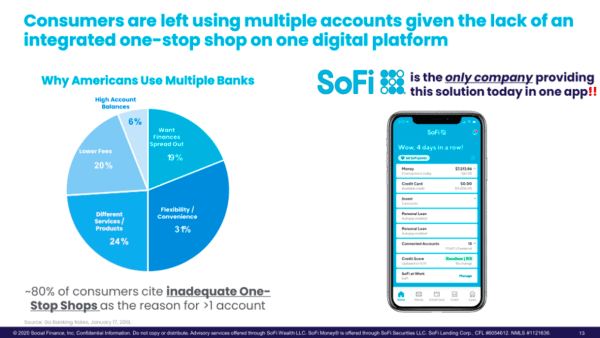 ---
In a presentation following the announcement, SoFi outlined its expectations for the future. Much of the Fintech's growth will be garnered by the shortcomings of incumbent financial services firms that fall short in providing efficient services at a competitive price. While there have been over 200 "neobanks" launched in the past 10 years, SoFi wants to be the one digital bank to rule them all – or perhaps the top Fintech in the digital bank sector. SoFi targets a $2 trillion opportunity that is currently serviced by a basket of firms like Citi and Visa. SoFi's success will combine a one-two punch of consumer and entprise services described as the AWS of financial services.
The combination of services such as: Money, Invest (including crypto), Student Lending, Personal Loans, Home Loans and Credit Cards – will create a one stop shop for consumers that want a single app to manage their financial existence. This is described as "winner take most".
Currently, 83% of revenue, $514 million, is driven by lending. Within 5 years, Lending is predicted to decline to 43% of revenue or $1.6 billion. The tech platform (Galileo) and other financial services will rise in operational importance. A possible bank charter will drive net income as it will mean a reduction of net borrowing costs by 200 to 400 basis points.
SoFi has plotted an aggressive path of growth in a landscape full of digital banking platforms seeking to do some or all of the same. By 2025, adjusted EBITDA (with a bank charter) is expected to hit $1.476 billion.
---
$IPOE is merging with @SoFi to take them public.

This is an incredible company in banking and fintech that has the potential for a winner-take-most outcome.

Watch @cnbc now or listen to call at 1pm ET (https://t.co/6Ebp0kS2nf) to hear from me and @anthonynoto.

1-pager below. pic.twitter.com/HY89KqRLCD

— Chamath Palihapitiya (@chamath) January 7, 2021