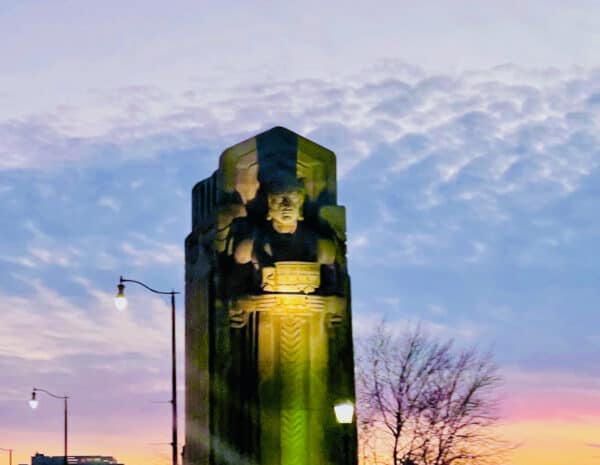 We recently caught up with Derek Lau, Game Director at Guild of Guardians, which is one of the partner games of Yield Guild Games (YGG).
Guild of Guardians is a blockchain or distributed ledger tech (DLT)-based mobile role-playing game (RPG) that has been published by Immutable (the team behind Ethereum's highest-grossing trading card games, Gods Unchained).
Yield Guild Games has reportedly identified Guild of Guardians as one of the next "consequential" play-to-earn NFT games, "acquiring $110,000 worth of in-game NFTs from the recent Guild of Guardian's founder's sale." These included 1 Mythic Guild (worth $100k) and 50 Adventurers Guilds (worth $200 each).
Once live, these guilds may be used by more than 1,000 YGG players "creating a brand revenue stream within a system that Guild of Guardian's Game Director Derek Lau has dubbed a 'metaverse economy.'"
Derek told Crowdfund Insider that he envisions "a teeming ecosystem of millions of players working together, trading, and playing a part in this ever-changing and totally dynamic economy." He also shared that it's all "made possible thanks to interoperable gaming and truly ownable in-game assets in the form of NFTs."
Our conversation with Derek about the metaverse economy as well as Yield Guild Games contribution has been shared below.
Crowdfund Insider: Can you tell us about your project, Guild of Guardians?
Derek Lau: Guild of Guardians is a fantasy-themed RPG game, powered by NFTs to allow for real value-driven tangibility of in-game items. Players assemble a team of heroes and earn resources through in-game questing and defeating dungeons. Guild of Guardians will be released on both Android and iOS mobile devices to reach the largest number of players possible, as anyone with a smartphone can get involved. There are already over 150,000 players pre-registered for the title, which is planning to launch in early 2022.
The game will be focused on guild play and multiplayer communities, as opposed to a single-player experience. Collaboration will be necessary to defeat the increasingly difficult dungeons, and all assets earned can be traded with other players. The goal is to both create a strong population of dedicated players who also take part in a digital economy, which we're hoping to bring into the growing Metaverse. To this end, there is also an in-game currency, known as Gems, which will be the backbone of this decentralized market.
Crowdfund Insider: What can you tell me about your gaming model, and what makes it unique?
Derek Lau: There's been a lot of emphases put on the "Play-to-Earn" model used by so many blockchain-powered games available today. We, however, like to call our model "Play-AND-Earn." This is because we want to put gameplay first, and have it be enhanced by the inclusion of blockchain-powered assets that are tradeable for real-world value. Gamers should want our game for what it is without NFTs, and then find out the joy of owning what you earn.
Hence, there's a variety of ways players can engage with the world, each other and the economy. Take, for example, dungeons. This is where the main challenges will be in the game, and completing them will earn players currency and assets. Whether players use these spoils to enhance their own heroes and equipment or trade them on secondary markets will be up to them.
Next up, there are the aforementioned guilds. Guilds provide access to Guild Crafting, which are the only way to create NFT equipment in Guild of Guardians. They also allow players access to guild-specific content. Furthermore, Guild Leaders make even greater returns, and there are several different tiers of guild that players can join. This is part of why guild play is such a large focus.
One other important facet that sets Guild of Guardians apart is the fact that there is no up-front monetary investment, nor is there a "pay-to-win" mechanic in place. Players can join and begin playing for free, and begin earning assets in-game. Furthermore, purchasing items from other players, even if using in-game funds bought with fiat, won't harm other players because this is a cooperative experience, not a PvP one. We wanted the lowest possible barrier for entry to entice the maximum player base.
Crowdfund Insider: Tell us about your vision for a "Metaverse Economy."
Derek Lau: The metaverse economy refers to an economy that will exist between multiple different platforms, gaming and otherwise. Made possible because of blockchain assets like NFTs. For example, one version of this economy could see a standard blockchain token that begins to be used in a variety of different titles.
Gamers could have one wallet that grants access to their funds regardless of which world they were in, hence creating a high degree of liquidity between these games and making them extensions of a larger economy. The same idea goes for NFT items that could be used and traded across a multitude of differing platforms.
One exciting concept we are encouraging is the idea that the Guild of Guardians universe will extend outside of the game. I expect we will see organizations, brands, individuals and creators building real businesses within Guild of Guardians, as well as their own experiences and ways of utilizing the Guild of Guardians IP.
Innovations such as these are what we see powering the Metaverse economy very soon, and it isn't just limited to video games. Social media, streaming entertainment and financial services could all be similarly easy to transfer value across, leading to a truly complex but still very intuitive ecosystem.
Crowdfund Insider: What can you say about your partnership with Yield Guild Games?
Derek Lau: Yield Guild Games is a decentralized autonomous organization (DAO) that invests in NFTs that are being used in virtual worlds and blockchain-based games. The overall goal is to help foster this new Metaverse economy, optimizing its community-owned assets for both increasing utility and sharing its profits with token holders.
Thankfully, Yield Guild Games has understood the potential that Guild of Guardians has, as part of the coming wave of this new economic model. To that end, the company has acquired $110,000 worth of GoG in-game NFTs during the recent founder's sale. These purchases included 1 Mythic Guild, worth an impressive $100,000 as well as 50 Adventurers Guilds. Soon, these guilds can be used by YGG's players to create brand revenue streams and grow the entire ecosystem.
Crowdfund Insider: Who are the team members behind Guild of Guardians?
Derek Lau: The Guild of Guardians game will be published by Immutable and is developed by Stepico Games. Immutable is a renowned, VC-funded, blockchain gaming startup which is backed by well-known investors, including Galaxy Digital, Coinbase, Apex Capital, and many more. Immutable is well-known for its highly popular blockchain gaming title, God's Unchained, which is today the highest-grossing trading card game available on Ethereum.
Stepico Games is a Ukrainian team that focuses on both the mobile and PC markets. Notable titles built by the team include MMA Manager, Century Siege: TD Battles and Bigfoot. The team uses Unity 3D as its core architecture to bring together client code with protocol and backend solutions. Some of their partners include Amazon Studios, Universal, MOBiFUN and Prey Studios.