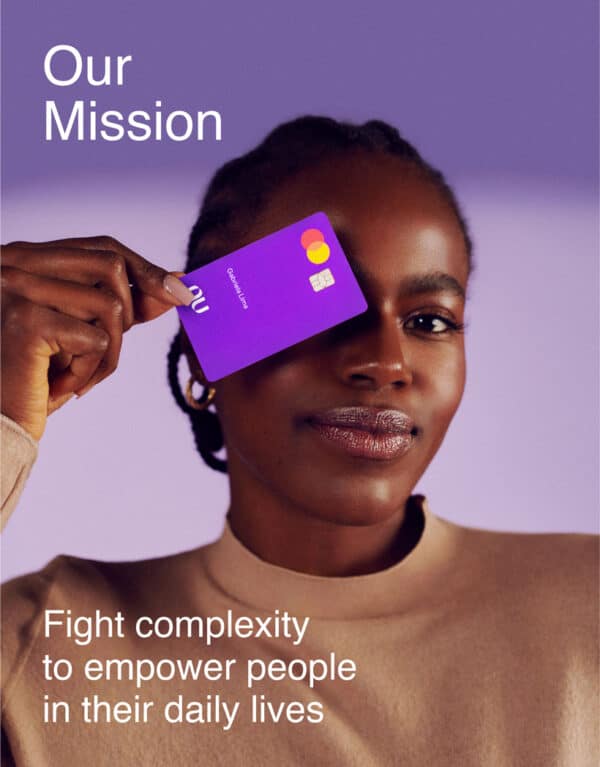 Nu Holdings (Nubank), a Brazil-based Fintech, is expected to go public this week as shares are set to trade under the ticker symbol "NU" on the NYSE.
Late last month, Nubank updated its price range to $8 to$9 per share. If the neobank bank floats at $9 it will raise a gross amount of USD $2,859,497,856. Nubank will also trade shares on the  Sao Paolo Exchange in Brazil.
Nubank, which also operates in Mexico, Colombia and Argentina, reports more than 48 million users (As of September 30, 2021) – a dramatic number of clients in a market that tends towards the underbanked.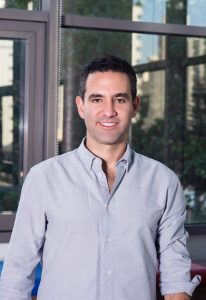 Launched in Brazil in May 2013, Nubank was founded by three Fintech entrepreneurs: Colombian David Velez, American Edward Wible and Brazilian Cristina Junqueira. The company emerged as a startup focused on solving financial problems using technology and its success to date has been pretty spectacular.
Last summer it was reported that Nubank had secured $750 million in capital as part of two extensions of in a Series G round. In total, Nubank raised $1.15 billion at a valuation of around $30 billion.
Like many neobanks, Nubank offers traditional services but in a digital environment. Catering to both businesses as well as consumers, Nubank offers cards, savings, investing, insurance as well as online lending.
A telling metric is that Nubank reports adding, on average, 2.1 million new customers per month during Q3 2021. Around 80% to 90% of customer acquisition is organic.
The prospectus claims that 5.1 million customers have been able to receive their first bank account or first credit card due to the Fintech as it drives financial inclusion.
Simultaneously, Nubank claims to have saved $4.8 billion in bank fees.
Nubank has its eyes set on the entire Latam market -a market of over 650 million worth over $1 trillion.
Nubank explains its success being driven by an incumbent banking market that is highly concentrated and controlled by a small number of financial institutions:
"According to the respective Central Banks as of December 2020, the five largest banks in each of Brazil, Mexico and Colombia control between 70% and 85% of all loans, deposits and overall banking revenue in their respective markets, shares that are significantly higher than those of most developed markets. Given its highly concentrated nature, the Latin American banking sector has long suffered from a lack of competition. We believe this has resulted in less innovation, a more limited selection of products and services, and higher fees than in the more open and competitive markets of the United States and Europe. While this concentration has enabled the large incumbent banks to maintain their status quo, we believe it also creates a very fertile environment for disruption from new entrants who can use advanced technology, data and customer service to level the playing field."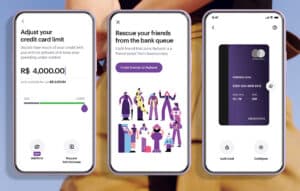 By being digital-first, Nubank does not suffer the legacy costs of physical locations and an outdated tech stack:
"The incumbent banks in Brazil, Mexico and Colombia have expansive and expensive branch distribution networks supported by large workforces and legacy systems. For example, each of the five incumbents in Brazil has between 2,000 and 5,000 branches and around 80,000 employees each. We believe this legacy infrastructure has translated into a higher cost to serve, incentivizing incumbents to sell high-margin products while excluding a large segment of the population from the financial system. We estimate that in Brazil, our cost to serve and general and administrative expense per active customer is approximately 85% lower than those of incumbents, based on their publicly available financial statements. Based on this estimate, for the first six months ended June 30, 2021, incumbents had an average monthly cost to serve and general and administrative expense per active customer of approximately US$15.7."
In certain respects, Nubank is emblematic of the promise of Fintech to provide improved services, at lower cost to a profoundly underserved market.
Nubank is currently scheduled to list its shares on the NYSE this Wednesday (December 8). Definitely, a Fintech to watch today and in the future.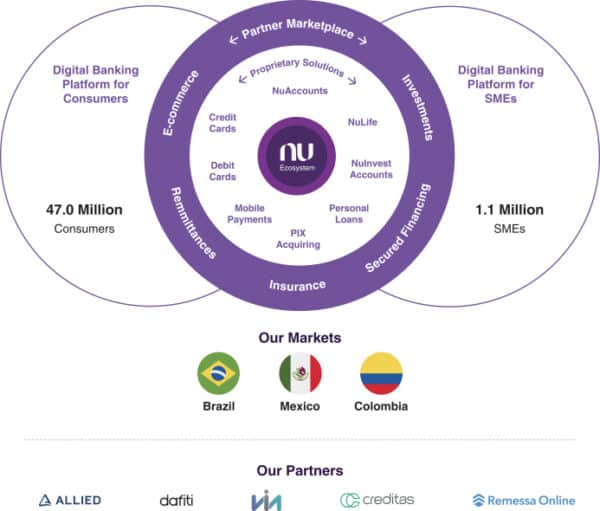 Sponsored Links by DQ Promote