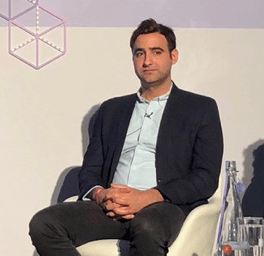 Anil Stocker, CEO at UK-based MarketFinance, a leading online lender that raised £280 million in debt and equity (earlier this year) and was approved for flex loans, notes that for most businesses in the United Kingdom, 2021 presented both opportunities and challenges (and that was also the case at MarketFinance).
Stocker wrote in a blog post that as business leaders across the UK continued to "prove their resilience against changing restrictions, new variants and supply chain upheaval," MarketFinance continued to "stand by them."
Stocker added:
"We lent over half a billion pounds (£540,843,643 to be exact) through our broadening product set that spans invoice finance, business loans, and flex loans. Our team has worked tirelessly to build the fastest credit decisions on the market, seeking to say yes as much as we can, and supported by thoughtful customer service that has led to record positive customer feedback scores this year."
He also mentioned that their mission for the first five months of this year was to "make sure as many businesses as possible could get back on track after a tough winter of restrictions."
He further noted that they had £1.34 billion worth of submitted applications and more than 7,000 applications for their Covid Business Loans product this year alone.
Stocker also mentioned that many business owners were "doing digital applications for credit for the first time, often from their home offices and kitchen tables, under tight deadlines."
He explained that this underscored to the team "how much the industry has changed, and how our customers are demanding a seamless digital experience wherever possible." This definitely "plays to our strengths as a fintech that has invested in these areas since we started 10 years ago," Stocker added.
He continued:
"Over the summer we worked hard to raise further funds to boost our balance sheet, announcing a £280 million line of debt and equity from Italy's largest bank Intesa SaoPaolo (among others) in September 2021. We also became one of the first fintechs to be accredited under the Recovery Loan Scheme which allowed us to offer better priced loans to businesses who want to get back into growth mode."
He also shared:
"We're helping businesses across a number of sectors, but especially heart-warming is when we help a mission-driven founder like Debra Cartlidge at School of Sign Language in Lancashire, who is using the funds to renovate and develop a residential school for deaf people."
On the working capital side, MarketFinance approved credit limits "worth £286 million across invoice finance and flex loans, and funded nearly 17,000 long-dated invoices that help firms to meet payroll, pay their suppliers and buy inventory," Stocker revealed.
The MarketFinance team is constantly "working towards our North Star to make access to finance as frictionless as possible, because we know how this can weigh on a business' plans."
Stocker added:
"Changes to our technology and business processes have greatly helped to reduce the time to fund, and driven record highs in customer satisfaction. We also rolled out a new unified dashboard on our customer accounts that lets businesses easily toggle between different funding products depending on their needs."
He also noted that 2021 has been "a significant year for partnerships."
MarketFinance celebrated 3 years of working with Barclays, which has seen more than 7,500 credit applications being referred to us, Stocker confirmed.
He added that they were excited to launch their first digital integrations which "makes it seamless for a business to access funding via the Barclays app."
Stocker explained this has "helped us fund over £250 million through the partnership."
He further revealed:
"We are piloting a number of integrations with software platforms, accountancy platforms, digital banks and B2B marketplaces. Given our decade-long experience lending to businesses, we feel the time is right for us to start embedding our finance products within relevant partner ecosystems and at business ecommerce checkouts to power working capital at the point of sale. More and more of business-to-business trade is moving online and we are very well poised to make an impact here."
He also noted:
"The pandemic has given us time to rethink how we work from an operational perspective. When our team pivoted to successfully working from home we didn't want to lose new freedoms and flexibility, so we introduced a new work philosophy that includes hybrid working, fully remote technical teams, company all-hand events and 45 days a year to work from anywhere in the world. With new recruits from Edinburgh to St Petersburg, we're making the most of a diverse and global pool of talent."
He concluded:
"We're closing this busy year by hitting profitability for the past 12 months, which is a significant milestone, and lays a great foundation for 2022 and beyond."
Sponsored