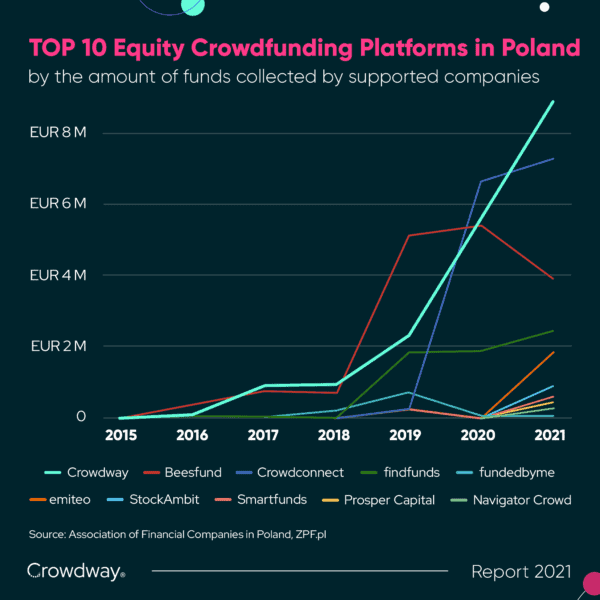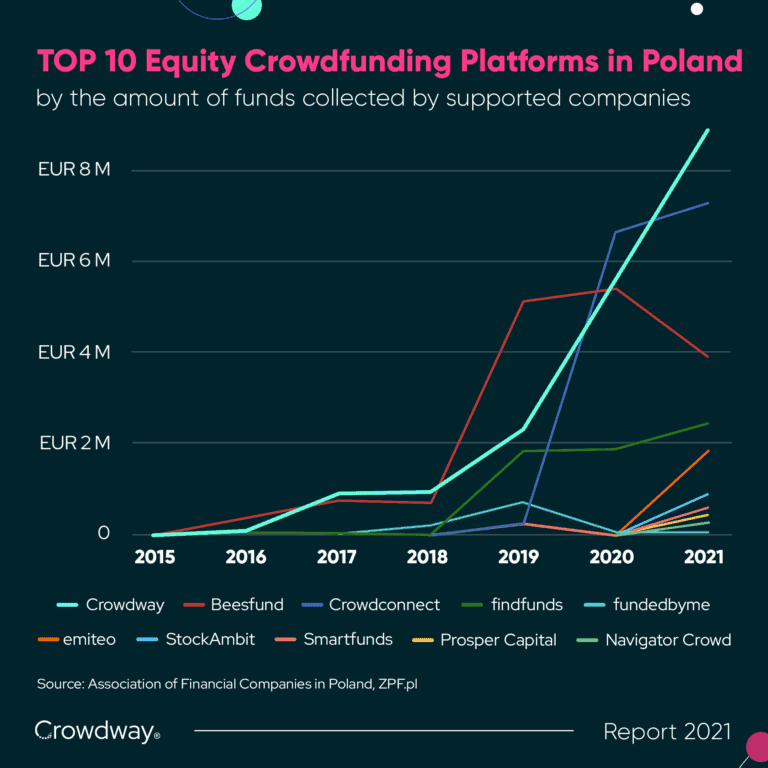 According to a report from Crowdway, the equity crowdfunding market in Poland experienced a record year in 2021. Crowdway states that Polish startups raised over €62 million since the industry launched. The company states that the industry is poised for rapid growth in 2022 due to the enactment of pan-Europe crowdfunding regulations that allow issuers to raise up to €5 million per offering across the European Union.
A platform seeking to operate across the EU must be approved by the national regulator to provide pan-European securities crowdfunding. The first EU-wide securities offering is predicted to commence in early 2022.
Referencing data from ZPF, the Association of Financial Companies in Poland, in 2019 there were over 40 crowdfunding campaigns. During 2020, that number went to over 70 with 120 reported in 2021.
Crowdway says that in the early years of its operations (2017/2018), firms utilizing its fundraising services raised around € 1 million. The amount doubled in 2019, and in 2020 the total topped € 5.7 million. In 2021,  issuers raising capital Crowdway hit €9 million making Crowdway the leading securities crowdfunding firm.
Crowdway adds that successful exits from investments will be crucial for the further development of the market noting that several crowdfunded companies have announced listings on the stock exchange.
"Investors appreciate projects that already generate income, and offer an exit from the investment within up to three years. 2021 was marked by online businesses, hemp, and craft companies. Successful exits from investments will be crucial for the further development of the market – several companies announced their debuts on the stock exchange in 2022. We also see the huge potential in upcoming changes in the law. Finally, international investors will be allowed to participate in an issue, and the amount of a single share issue will be extended to € 2.5 million," says Marcel Rowiński, Crowdway CEO.
Crowdway explains that non-funding aspects of crowdfunding are key to the industry including increased marketing, which translates into better recognition of new contractors or customers is a great advantage for every company starting a securities offering. Crowdway also sees global potential in Polish startups. SatRevolution, a company that ran a securities offering in 2019, recently announced a $30 million investment round in cooperation with Virgin Orbit founded by Richard Branson.

Sponsored