Open banking infrastructure provider Yapily says that open banking is a top priority for UK banks.
According to Yapily's research, UK banks continue to invest in open banking and API response times in the UK, by the top 10 traditional banks, have improved response speeds between 2020 and 2021, in some cases by up to 37%.
Yapily reports that at the end of 2021, over 26.6 million open banking payments had been made in the UK in aggregate. This represents an increase of more than 500% in 12 months.
Yapily explains that faster response time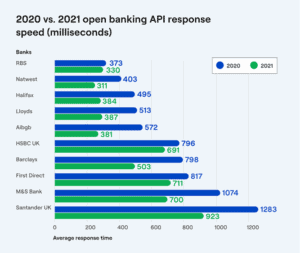 s across the board indicate that banks have invested heavily in open banking's underlying infrastructure during this time.
Last year, the average API response time across UK banks was 511 milliseconds, an improvement of 28% from 2020, with the OBIE recording a 60% increase in user adoption over the same period from 2.8 million to 4.5 million.
Roland Selmer, Chief Product Officer at Yapily, says that for the customer, "faster response times will create a slicker and more convenient user experience. For businesses, benefits include faster access to financial data, reduced abandonment rates, and increased levels of customer trust."
"However, it's important to remember that response speed is just one aspect of improving the UK's open banking ecosystem," adds Selmer. "Over the next 12 months, banks, fintechs, and Technical Service Providers (TSPs) alike will need to continue to invest in open banking architecture. In order to increase adoption, improving API reliability, uptime and user journeys will be key as this will ultimately have the biggest impact on improving conversion rates."
Yapily claims that NatWest, RBS, and AIB had the fastest API connectivity in 2021, with an average speed of 340 milliseconds.

The most improved banks in the last 12 months include Barclays, who saw a 37% reduction in average response time; M&S, who achieved 35%; and AIB, who saw 33%.

Sponsored