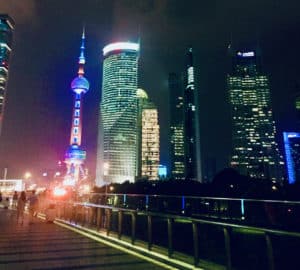 VeChain developers note that the blockchain sector in Shanghai has enjoyed  "robust" and "fast-paced" development because of the city's ongoing efforts and their willingness to embrace blockchain tech.
To expedite the development of blockchain or distributed ledger tech (DLT)-powered services in Shanghai, the Shanghai Municipal Administration of Market Supervision and the Shanghai Certification Association, made the Certification Standard for Blockchain Service "officially effective from February 1, 2022."
As one of the initiators of the standard, VeChain offered technical input based on its own products, services, and experiences, "with standardized service guidelines based on internal practices."
Dr. Peter Zhou, Chief Scientist at VeChain, and Dr. Zhijie Ren, Senior Blockchain Researcher, offered technical advisory and input in order "to facilitate the formation of Shanghai's blockchain standard."
As mentioned in the update from VeChain, the most important objective of the standard is "to provide a robust and proven assessment structure of present blockchain-enabled enterprise services."
It specifies the normative requirements for blockchain service evaluation and certification, "including the technical requirements, compliance baseline and the general and specific management requirements for blockchain applications."
As explained in the announcement, the standard also "includes evaluation indexes, evaluation methods and recommended approaches involved in service evaluation."
This standard is "widely applicable, being relevant for blockchain service level evaluation and certification activities as well as for regulating blockchain service operators."
It contains "universal guidance" for tech service providers aiming to provide blockchain-powered business services, while offering an appropraite reference standard for large enterprises "looking to define premium, credible blockchain-based digital services."
VeChain further noted that they are "no stranger to aiding the development of compliance standards."
In November 2020, VeChain reportedly took part in the first IEEE international standard in the blockchain field; 2418.2–2020 Data Format Standard for Blockchain System.
Led by China Electronics Technology Standardization Institute, the outcome "showcased VeChain's technical capabilities and ability to develop standardised, scalable designs that lead to safer and faster adoption."
Throughout 2021, VeChain has continued "to aid the development of standards for a variety of bodies, in fields ranging household electrical appliances to non-staple foods and even contributions to regulatory jurisdictions, as in San Marino, Europe."
VeChain's approach to mass adoption has been "measured and methodical and this latest achievement is yet another paving stone in our path to true global mass adoption."
The team added that they are now looking forward to "writing more of the rules in 2022 and beyond as we continue our journey in to the era of blockchain."
Established in 2015, the VeChain Foundation has worked to form bridges between blockchain tech and the real world.
VeChainThor's evolution continues "to gather pace, transitioning from consortium network to a best-in-class public blockchain platform."
As the ecosystem enabler, the Foundation's mission is "to empower builders and innovators by developing tools that systematically eliminate adoption hurdles and lower entry barriers for businesses and developers alike."
VeChainThor has been "applied across a diverse array of use cases, aiding the daily operations of corporations and creating new value and efficiencies."