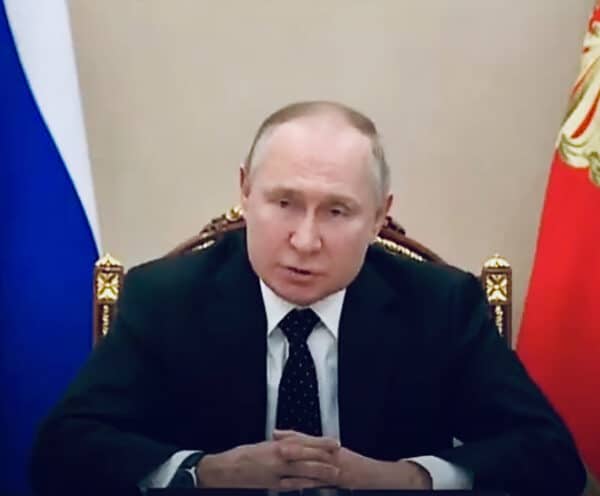 While the humanitarian crisis grows in Ukraine and Russia's unprovoked war rages on, the European Union (EU) announced that selected Russian banks have been removed from the SWIFT messaging system. While the names of the bank were not immediately available, any on the list will be blocked from accessing the global messaging platform that is vital to money transfers – a crushing hit to the Russian economy.
The EU also said that it is committed to preventing the Russian Central Bank from accessing its international reserves – another blow to Russia.
The EU added that wealthy Russians, or Oligarchs, are being targeted as well. All Russian planes, including private jets, have been blocked from European air space as the global economic vice tightens on the rogue Russian regime. While Vladimir Putin and his Foreign Minister Sergei Lavrov and other elites have already seen their assets frozen, the list of elites – including family members – has grown. The EU said they would "engage other governments and work to detect and disrupt the movement of ill-gotten gains, and to deny these individuals the ability to hide their assets in jurisdictions across the world."
The White House collaborated with the EU on blocking access to SWIFT stating that they will "ensure that these banks are disconnected from the international financial system and harm their ability to operate globally." The Biden administration joined in targeting the oligarchs and their family members freezing assets as well.
Currently, most of the west is standing in unity in an effort to stop Russia's war against Ukraine. Europe, the US, the UK, Canada, and Japan have all moved to block Russia from global markets.
This coming week, a transatlantic task force will seek to identify sanctioned individuals and implement the freezing of assets as global governments move to apply maximum pressure on Russia's criminal act of war.
Meanwhile, the Central Bank of Russia moved to calm fears of the general public that money will not be available and credit cards may not work. While announcing that services like Apple Pay and Google Pay will no longer operate in Russia, the Bank of Russia stated:
"All customer funds of all banks held in accounts linked to cards are preserved and available to clients at any time. Cards issued by the banks sanctioned by Western countries also operate and will operate across Russia without restrictions. Customer funds in card-linked accounts are kept safe and fully available. Clients of the sanctioned banks (VTB Group banks, Sovcombank, Novikombank, Promsvyazbank, Otkritie) will be unable to pay by cards of these banks outside Russia and use them to pay for services in online shops and service aggregators registered in the countries supporting the sanctions."
While the full ramifications of these severe sanctions will only be clear over the coming days, most anticipate a further drop in the ruble as well as crashing the Russian stock market.
Tomorrow, Russia will be outside global finances.
Few can travel there because almost all international flights have ceased.
Credit cards and other international means of payment will cease.
The stock market and Russian bonds will collapse.
Putin is a true disaster for Russia.

— Anders Åslund (@anders_aslund) February 27, 2022
Some observers believe that Russia may access crypto markets to evade sanctions – something Iran has been able to accomplish to a certain degree, but these markets are simply too small to help Russia with its massive daily financing needs. Perhaps, at best, some elites or Oligarchs could avoid some of the sanctions to access funds and most likely they will have some hard assets they may be able to sell for cash but it appears their high flying lifestyle is over for now – at least as long as Putin is in power.
Rance Masheck, President and founder of iVest+, noted that regulators cannot do much to stop Putin from using cryptocurrency to conduct economic activity, but this only works if the buyer or seller on the other end of the transaction is willing to accept Bitcoin or any other cryptocurrency. However, at some point, the goal would be to convert cryptocurrencies back to other normal currencies, namely the US Dollar, and at that point, the swapped transaction would be trackable on the crypto exchanges.
"There is likely not much chance that Putin can run his war campaign or even his economy on the basis of cryptocurrencies alone, but it could help him fill a short-term void. Regulation isn't necessarily a short-term solution and it won't block any crypto networks from Putin, but if the blockchain technology holds, it could actually be a win for cryptos in general. It would demonstrate that they are stable and non-hackable transactions at a key moment in time that ultimately are trackable when converted back to the US Dollar."
Masheck believes that overall, containing Putin is probably a positive for the markets.
As was previously reported, Russia may be able to get some help from China but there has not been any announcement yet that the Chinese government would be willing to help out the Putin regime and its blatantly criminal act of war.
As economic sanctions hammering Russia and the Putin regime sink in, the war continues as Ukrainians bravely battle the far larger Russian army and the world watches the tragedy in near real-time on social media.