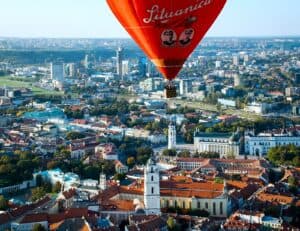 Invest Lithuania, the country's Investment Promotion Agency supporting firms interested in tapping into the European market, has created a section of their website providing information for Ukrainians that are fleeing the war with Russia. Invest Lithuania states:
"We would like to assure you that Lithuania stands firmly with Ukraine and is prepared to offer safety to Ukrainians fleeing the war. Lithuania has mobilised its national institutions and is actively seeking ways to support Ukraine. According to the latest information from the Lithuanian Ministry of Foreign Affairs, the only way out of Ukraine is by land travel. It is recommended to leave by land in these directions – Poland, Slovakia, Hungary, Romania. Please note, Ukraine's border with Poland is currently clogged, and the country's airspace is closed. The Embassies of the Republic of Lithuania in Kyiv and Lviv have moved to Poland."
The site tells Ukrainians they first must make it to Poland where Lithuanians are able to arrange transport to Lithuania. Upon arrival from Poland, Ukrainians will be registered and if they do not have a residence will be provided with a temporary accommodation.
As of tomorrow (March 1, 2022), Lithuania will facilitate Ukrainian refugees with the following:
Ukrainian refugees and their family members who will not have a valid travel document will be issued a foreigner's registration certificate until their legal situation is resolved. Moreover, arriving refugees will not be required to submit travel documents, health insurance and other documents required to enter Lithuania.
Ukrainian citizens enjoying visa-free travel or holding a valid Schengen visa, as well as Ukrainian citizens who have obtained a national visa or temporary residence permit issued on humanitarian grounds in Lithuania, will have the right to work and will be exempt from the obligation to acquire a work permit.
After arrival and reception of humanitarian status, citizens of Ukraine will immediately be able to work in the same way as Lithuanian citizens.
Lithuania is home to a robust startup scene including Fintechs. More information is available here.