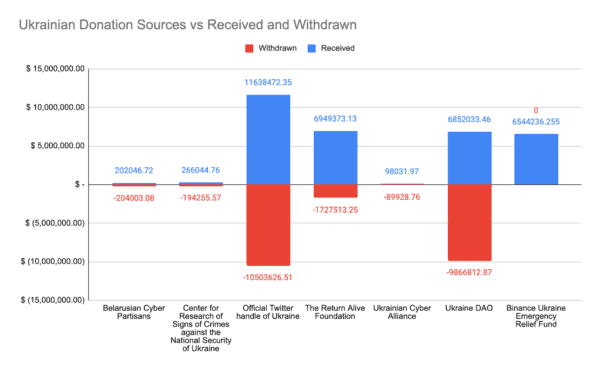 As of today, over $36 million has been donated to various Ukrainian organizations, including directly to the Ukrainian government along with non-profits supporting efforts while unprovoked war rages with Russia.
The Ukrainian government, The Return Alive Foundation, UkraineDAO, and Binance Charity's Ukraine Emergency Fund lead the group in regards to the value of contributions received, according to a report by Merkle Science.
In a blog post, Merkle said they have identified 13 crypto addresses requesting donations from Ukrainian supporters.
Of these addresses, six are said to be Bitcoin addresses, five are Ethereum addresses, one is a BNB Chain address, and one is a Litecoin address.
Crypto donations to Ukraine have emerged as a valuable path to supporting the country as Russia attacks the country in a criminal act of war. While some government and non-government entities are posting wire accounts and using more traditional charity platforms like GoFundMe, crypto transfers are immediate and low-cost. No need to pay GoFundme a fee nor wait for a wire transfer.
The official Twitter account of the Ukrainian government posted addresses for two crypto wallets: one accepting BTC and the other taking ETH and USDT.
Up to February 28th, transfers have been as follows:
The BTC address published by Ukraine's official Twitter handle is 357a3So9CbsNfBBgFYACGvxxS6tMaDoa1P (labeled as wallet A1). A1 received approximately 114.5329 BTC ($4,496,503) and has sent out 98.0691 BTC ($3,798,057). The wallet currently has a standing balance of 16.4638 BTC ($623,839).
ETH address 0x165CD37b4C644C2921454429E7F9358d18A45e14 (labeled as wallet A2) has completed 7,323 incoming transactions and 4 outgoing transactions. The address received approximately $7,167,956.24 from 20 different ERC-20 tokens such as ETH, USDC, AAVE, and SHIB. Approximately $6,722,224 has been sent out from this address.
Stand with the people of Ukraine. Now accepting cryptocurrency donations. Bitcoin, Ethereum and USDT.

BTC – 357a3So9CbsNfBBgFYACGvxxS6tMaDoa1P

ETH and USDT (ERC-20) – 0x165CD37b4C644C2921454429E7F9358d18A45e14

— Ukraine / Україна (@Ukraine) February 26, 2022