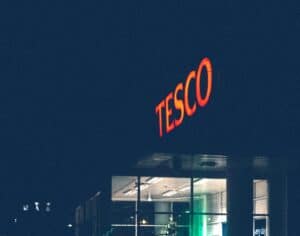 Tesco Bank is reportedly using biometric authentication tech from Onfido in order to accelerate onboarding for its Clubcard Pay+ account, through which clients may ring-fence their grocery spend from any existing bank account.
Introduced in January 2022, Tesco Clubcard Pay+ allows members to make payments with their Clubcard and pick up extra loyalty points wherever they make purchases. Clubcard Pay+ also allows consumers the option to save while they buy items by rounding up their purchases to the nearest pound, thus helping to save the difference into a Round-Up account.
Tesco's management noted that the partnership with Onfido enhances the process for customer onboarding. Instead of filling out postal applications, clients may apply via the Tesco Bank mobile banking application by using a photo of a government-issued identity document and a selfie.
Onfido checks that the ID is actually genuine and then matches it up with the customer's face. Additional features, like Optical Character Recognition (OCR) Autofill, extracts data from the ID in order to prefill the application form to improve the account opening process further.
Sigga Sigurdardottir, Chief Customer Officer at Tesco Bank, stated:
"The world of banking and e-commerce has changed significantly in recent years and customers are increasingly looking for integrated, seamless experiences. By partnering with Onfido, we're building on our reputation as a trusted high street bank with the addition of innovative technology that gives customers the best digital experience possible."
As covered in October 2021, digital bank Zopa had agreed to power Tesco Bank's online auto financing service.
According to a note from Zopa, the partnership enables the Hire Purchase car finance online, helping customers to finance a car in as little as three minutes.
Zopa notes there are around 7 to 8 million autos purchased every year in the UK and the Fintech expects strong demand for their service. Car buyers may get access to pre-approved, guaranteed rates, streamlining the purchase process. Interested borrowers may visit the credit marketplace ClearScore now to access credit.