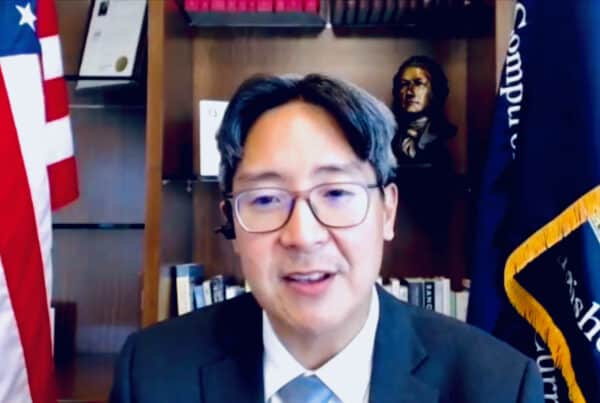 Acting Comptroller of the Currency, Michael J. Hsu, has shared his thoughts on stablecoins and how they should be regulated.
As the Biden Administration has messaged its intent to review digital assets as well as central bank digital currencies (CBDCs) and stablecoins, the most pressing questions include regulation.
Stablecoins are digital assets tied to other assets like the dollar or euro or even gold. Private companies have emerged to streamline the transfer and payment process by leveraging blockchain technology. While most stablecoin utilization is for fiat to crypto or crypto to fiat transfers, stablecoins may be the future of payment rails – faster and less costly. Stablecoins may end up existing alongside CBDCs – we are still very much in the early days of this technology.
In a speech delivered to the Institute of International Economic Law at Georgetown University Law Center, Hsu discussed why stablecoins matter, reviewing several policy questions.
Hsu believes that "getting stablecoins right from a regulatory policy perspective is important because getting them wrong could result in ordinary people getting hurt."
And what is the best way to accomplish this task? Hsu believes that a banking approach would be more effective. The Comptroller states:
"Some have expressed concerns, however, about undue burden and inefficiency. If a stablecoin entity were tightly limited to just issuing stablecoins and holding reserves to meet redemptions, I would agree that the full application of all bank regulatory and supervisory requirements would be overly burdensome. Provided that the activities and risk profile of a stablecoin issuing bank could be narrowly prescribed, a tailored set of bank regulatory and supervisory requirements could balance stability with efficiency."
Hsu is of the opinion that stablecoin issuance should be under a chartered bank – segregated from other insured depository institutions.  And instead of creating a cafeteria of options for stablecoin issuers, it is best to keep it simple. Of note, is the fact that one of the largest issuers of dollar-based stablecoins is Circle with its USDC is pursuing a federal bank charter.
Hsu spends much of his time highlighting known risks of stablecoins – like a run on the market, or missing interoperability, not to mention systemic risk. If stablecoins are going to migrate from just fiat to crypto to payments, these are issues that need be to solved.
Hsu closes by predicting future outcomes:
"The future of digital assets is challenging to forecast. Today, cryptocurrencies are used primarily for trading on exchanges. Tomorrow, they may collapse and exist only on the shadowy peripheries of the financial system—or they may grow and power the next evolution of our digital lives and the digital economy. The uncertainty creates challenges for policymakers as well as for financial institutions."
The speech is an interesting read. You may download it here.