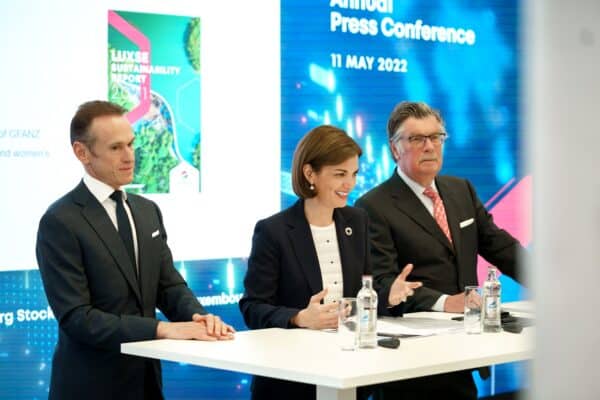 The Luxembourg Stock Exchange today published its financial results for the financial year 2021, reporting record growth. The Luxembourg Stock Exchange Group, which consists of LuxSE and its wholly-owned subsidiary Fundsquare, reported consolidated revenues of €55.4 million. This represents revenue growth of 8.1% compared to the previous year. The group also reported a net profit of € 13.5 million, up 20.5% from 2020.
Performance was said to be driven by considerable growth in the number of new listings.
In the course of 2021, LuxSE welcomed 12,687 new securities on its markets and on the LuxSE Securities Official List, up 17% compared to 2020. This makes 2021 the strongest year for LuxSE in terms of new listings since 2008. At the end of 2021, LuxSE reported a total of 37,839 listed securities, up 2% compared to 2020.
Around the beginning of the year, Societe Generale listed security tokens on LuxSE. These were the first securities admitted to the exchange that utilizes blockchain or a public Distributed Ledger Technology (DLT). Julie Becker, CEO of LuxSE, called the listing a true milestone for EU financial markets. LuxSE added that it will continue to invest in tech start-ups.
Becker said that 2021 was a record year for sustainable finance, both globally and on LGX, and they continued to contribute to the transformation of finance through new products and services.
"2022 is likely to be marked by a challenging geopolitical and economic context and the war in Ukraine, and this makes our focus on the increasingly urgent green and digital transitions even more important."
Along with 2021 financials, it was announced that Alain Kinsch has been elected as the new  Chairman of the board of directors of LuxSE, taking over from Frank Wagener, who has acted as Chairman of the board of directors of LuxSE since 2011. Kinsch was previously the Country Managing Partner of EY Luxembourg from 2009 to 2020.

Sponsored