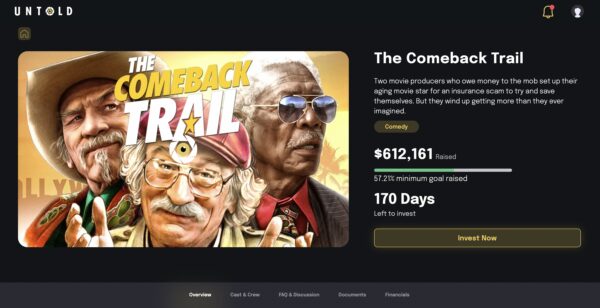 A new FINRA-regulated funding portal has announced its launch, Untold.io (Blue Dot Media Holdings LLC) will pursue investment crowdfunding targeting the entertainment industry. Untold.io states that it will both leverage Reg CF and Reg D exemptions to raise capital online. By utilizing the Reg D securities exemption, issuers will be able to raise an unlimited amount of money but from accredited investors. Reg CF is available to both non-accredited as well as accredited investors but holds a funding cap of $5 million.
According to a company statement, Untold.io aims to "democratize the production of a variety of entertainment content, starting with film. Untold.io says that it is "closely observing the digital asset ecosystem" to possibly incorporate blockchain technology to enable payments and perhaps more.
Ali M. Aksu, a film producer, founder, and CEO of Untold, stated:
"We created Untold to respond to the growing demand for streaming content, and also open the investment opportunity in a way the finance industry has never seen before. All projects go through an extensive due diligence process to feature projects from major and minor studios, senior production houses, and independent producers while offering both retail and institutional investors a simple, cybersecure means to invest."
The company states that it was founded in 2018 at MIT and incubated in 2019 at Singularity University in Silicon Valley. The investing marketplace is described as being designed to accelerate the production cycle and allow retail investors to participate in the world of content.
Untold.io completed a "proof of concept" project with the funding of a film that is said to be currently in post-production. The "Comeback Trail" stars Robert Deniro, Morgan Freeman, and Tommy Lee Jones, and is expected to be released in the US in November 2022. The platform raised $1 million for the project in senior mezzanine debt for a film budget of less than $100 million.
Beyond a financial return, projects may also incorporate other incentives such as attendance of film premiers, inclusion in credits, NFT merchandise, and more.
Aksu says he has spent his entire career in Hollywood and Silicon Valley with successful exits with Netflix and Universal Studios:
"For years, Hollywood has closed its doors, making it difficult for especially equity investors to support films in a transparent way; now looking even further, we are leveraging blockchain technology to introduce easier ways of investing in content production, to provide benefits like secondary markets and offer NFT perks matched with investment levels."
In the past, other online investment platforms have emerged to focus on the entertainment sector with varying degrees of success. Multiple securities crowdfunding platforms have listed investment opportunities into films as well as other media properties. Untold.io currently displays two films which are "coming soon" for investors as well as another funded project – Alaska, a horror film that raised capital under Reg D.

Sponsored Links by DQ Promote