As Bitcoin struggles to hold onto $20K and Ethereum wobbles in advance of the Merge, Coinshares most recent report indicates that investors continue to de-risk from crypto – albeit with small aggregate amounts.
According to the weekly report, digital asset fund flows delivered a net exit for three weeks in a row.  Last week, $27 million left the markets, and, in total, the last three weeks saw outflows of $46 million.
The report states that trading volume remains limited, with only $901 million traded last week – the lowest amount since October 2020.
Just about every market experienced an outflow – except Brazil, which recently saw two big entrants in the crypto trading sector. The US led the outflows, followed by Sweden and Germany.
Coinshares notes that Bitcoin drove the bulk of outflows at $29 million for the three weeks, while incremental increases in short Bitcoin products were reported.
Ethereum saw minor outflows of $1 million – despite growing confidence that the Merge will actually take place and be successful. We will know soon enough.
On the positive side, very minor inflows were seen in Solana, Cardano, XRP, Tezos, Chainlink, and Uniswap.
Much of the market trepidation has to do with hawkish comments by the Fed, stubborn inflation, and an ongoing recession. The markets are factoring in the uncertainty of how long and how bad the recession will be. As for a soft landing, this writer believes that has as much chance as Unicorns in Xanadu being a reality.
---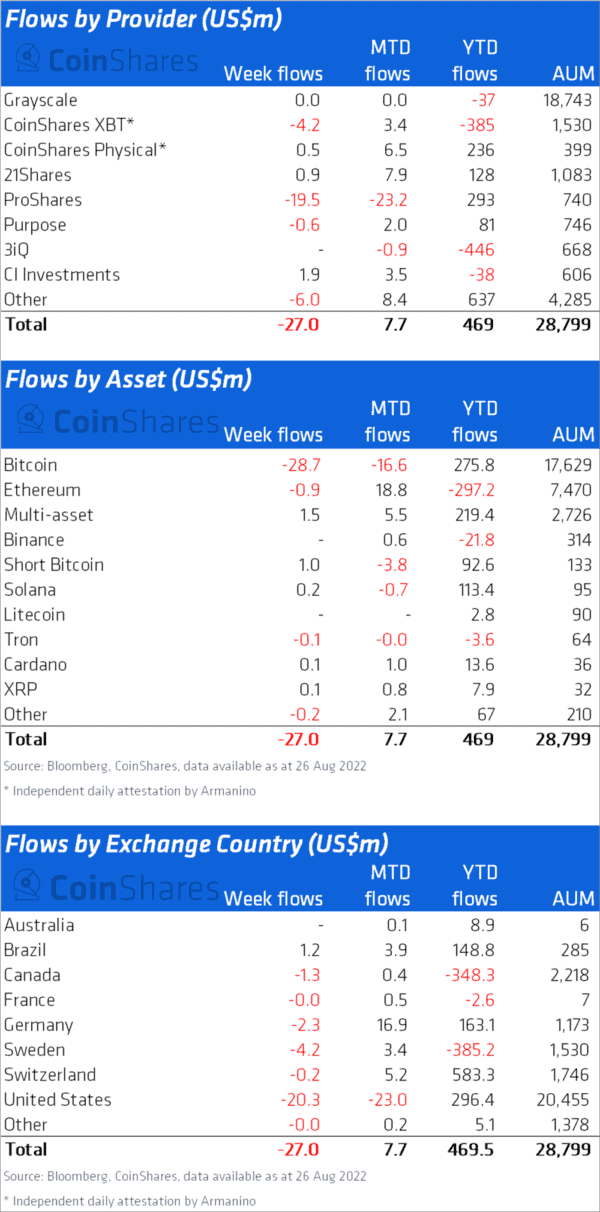 Sponsored