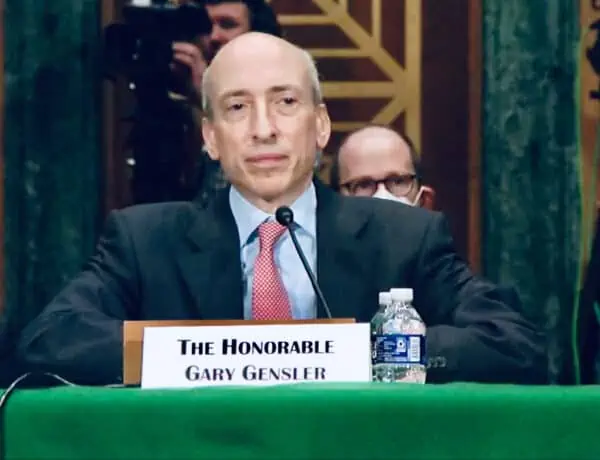 SEC Chairman Gary Gensler testified in front of the Senate Banking Committee today, reiterating his opinion that in regards to digital assets  (or crypto assets) that the vast majority are securities. The exception being Bitcoin, and perhaps Ethereum – which entail much of the crypto market. At least the Chairman has been consistent.
The Chairman of the Committee, Sherrod Brown kicked things off by stating "the SEC continues to enforce the law – going after crypto tokens that violate securities laws, shutting down crypto Ponzi schemes, and charging insider trading crimes in crypto." Senator Brown did not state that all cryptocurrencies are securities as the Biden White House continues to sort through its position on this innovation in financial services.
Senator Pat Toomey, the ranking member for the Republicans, opened by claiming the SEC has failed to provide regulatory clarity when it comes to digital assets.
"Unfortunately, some of the SEC's recent actions- and inactions – raise concerns about how well it's carrying out this important mission."
In prepared remarks Gensler stated:
"Offers and sales of these thousands of crypto security tokens are covered by the securities laws, which require that these transactions be registered or made pursuant to an available exemption. Thus, I've asked the SEC staff to work directly with entrepreneurs to get their tokens registered and regulated, where appropriate, as securities. Given the nature of crypto investments, I recognize that it may be appropriate to be flexible in applying existing disclosure requirements."
 What is new in this statement is the apparent willingness to be "flexible" – a term that is ripe for interpretation, lacking specifics. The SEC has pursued dozens of enforcement actions pertaining to digital asset offerings – many (or most) of these actions have included clear acts of fraud beyond allegations of unregistered securities offerings.
Gensler stated, once again, that given most all digital assets are securities, the platforms or intermediaries must be registered with the SEC "in some capacity." This alludes to the need for crypto exchanges to be regulated as exchanges, apply for an ATS license, or perhaps something else.
"I've asked staff to work with crypto intermediaries to ensure they register each of their functions — exchange, broker-dealer, custodial functions, and the like — which could result in disaggregating their functions into separate legal entities to mitigate conflicts of interest and enhance investor protections," stated Gensler.
Simultaneously, Gensler acknowledged that regulated financial services firms are interested in providing crypto services creating an additional twist to the regulatory aspects of crypto. Gensler said that he has asked SEC staff to cook up an approach to allow securities (perhaps digital ones) to trade alongside non-security tokens, something that is already taking place on certain platforms.
Gensler added that he looks forward to working with Congress on legislation, a nod to the fact that several bills are working their way through the legislative process which may impact the issuance, trading, and custody of digital assets. Additionally, some of these bills may help define the regulatory remit of the various federal agencies that aim to have oversight of crypto.
During the Q&A portion of the hearing, Gensler reaffirmed the need to get crypto exchanges compliant under the Exchange Act. Gensler said that most of these intermediaries are "not in compliance."
"We are talking to a wide swath of them … to get them into compliance," Gensler stated without mentioning any names.
Senator Mike Rounds slammed Chair Gensler for wanting to regulate without having any bespoke rules. "This is unacceptable … this is confusing to us," echoing the sentiment of many in the crypto industry.
Senator Cynthia Lummis mentioned her digital asset legislation crafted in partnership with Senator Kirsten Gillibrand, agreeing that initial coin offerings (ICOs) were investment contracts and that investors need access to disclosure to make informed decisions. She shared that she intends on re-introducing the bill in January as time runs out on the 2022 legislative calendar.
Clearly, the SEC will continue to pursue digital asset issuers that are not filing for an exemption, while working with crypto exchanges to "get them inside and regulated."
The other hot topic was the pending Climate Disclosure rules which were hammered by Committee Republicans. The proposed rules have garnered much criticism from pro-business entities, largely due to the cost of compliance and the challenges in actually measuring something so opaque.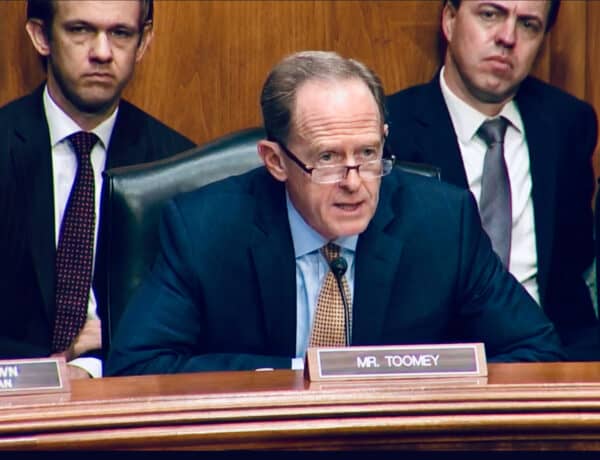 Senator Toomey inquired about the cost for public firms to adhere to the rules, following his opening remarks that asserted "the SEC itself estimates that the external compliance cost of a company going public will increase by more than five times." Gensler claimed the cost was "in the single digit billions" across the entire economy. Yet this estimate is just that. A guess. And firms have scarce resources to deal with something so vague.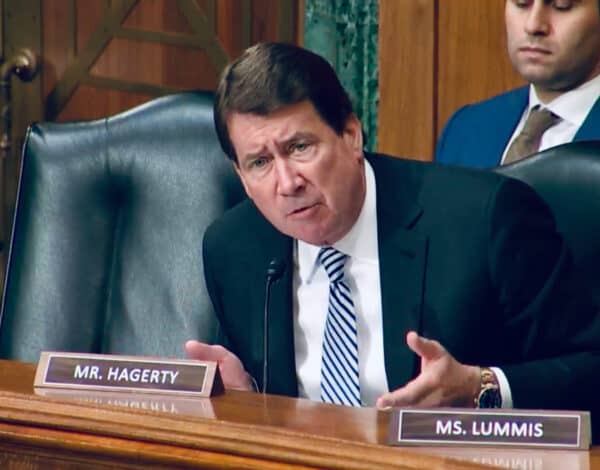 Senator Bill Hagerty pointed to the fact that initial public offerings (IPOs) have been in decline for decades now, undermining public markets.  The cause? Too many regulations – and the affiliated cost. Hagerty said successful firms stay private for as long as possible or they simply move abroad. "Climate disclosure will make matters worse."
"If we continue down this path there won't be any investors left to protect," Senator Hagerty told the Chairman.
Senator Steve Daines cut to the chase telling Gensler the climate rule is "beyond unreasonable and should be withdrawn."
"Is it reasonable to report and collect on … if the company car is a tesla or a pickup? That is the essence of these rules."
Daines called it "climate insanity," which will create a truly existential threat to the economy.
Senator Toomey returned towards the end of the hearing to assert that unelected bureaucrats should not be making policy – minus Congressional authority – something he believes the SEC does not possess.
"Have you considered rescinding the rulemaking?" asked Toomey, who added that if they pursue the rule, the courts will not be supportive, predicting a legal challenge.
Gensler, on the other hand, claimed that investors are using the information now. "They want the information," a statement that was not substantiated, belying the fact that most people commit their money to generate a return on the investment.