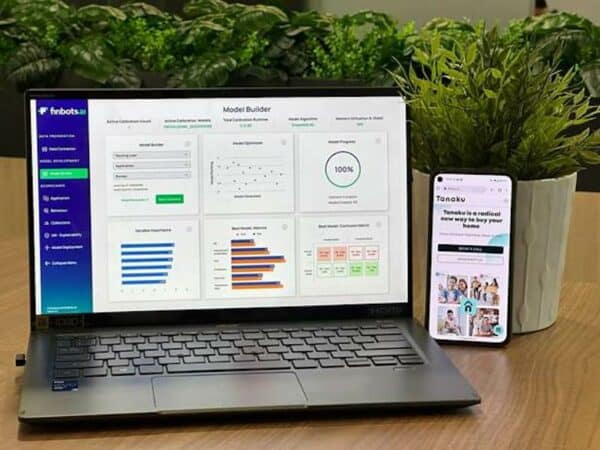 finbots.ai, an artificial intelligence (AI) firm for credit modeling, has signed an agreement to partner with Proptech Tanaku, expanding their services into Indonesia.
According to a company statement, finbots.ai platform will help Tanaku quickly create a high-quality customer risk assessment model to streamline pre-mortgage financing while reducing losses. At the same time, the solution is expected to help Tanaku expand its reach to new segments and democratize access to home ownership.
Sanjay Uppal, founder and CEO of finbots.ai commented:
"Indonesia is a key market for us with enormous potential, and we are delighted to embark on our journey here with a like-minded firm such as Tanaku. The partnership demonstrates our solution's ability to empower all types of lenders – traditional banks, digital banks, Buy Now Pay Later (BNPL) players and FinTechs across markets, and is a pivotal step for finbots.ai in transforming risk management and accelerating risk management financial inclusion."
finbots.ai notes that homeownership is in decline in Indonesia with up to 70% of Millennials unable to afford their own home. Tanaku is a Proptech firm that aims to "radically transform the home buying experience for Indonesians."  For as little as a 2% downpayment, Tanaku is a pre-mortgage solution that allows Indonesian homeowners to move into their homes, build remaining down payments, and improve their mortgage readiness.
Andries De Vos, Chief Product Officer of Tanaku, said they founded Tanaku to transform the home buying experience in Indonesia.
"finbots.ai's risk modelling solution will enable us to reach out to a wider audience, and speed up our customer origination process and level up our customers' home buying experience. We are very excited about the innovation and growth potential of our partnership with finbots.ai."
finbots.ai  is a Singapore-based Fintech, that is backed by Accel. The company completed a USD $3 million Series A Funding Round fully subscribed by Accel in April 2022.