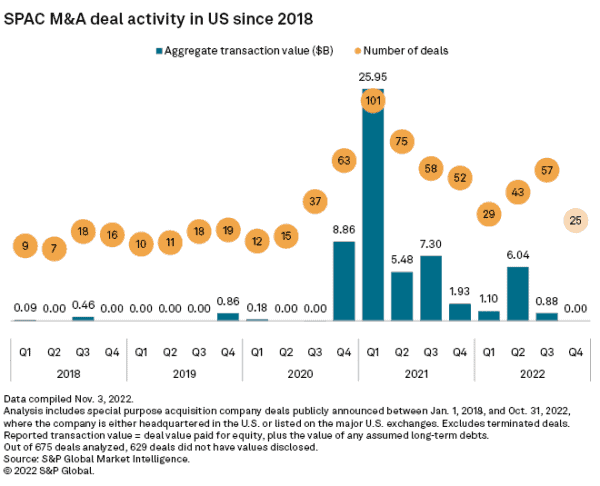 SPACs, or special purpose acquisition companies, boomed in 2021. This year, the story is rather different.
According to data compiled by S&P Global Market Intelligence, through Q3 2022, there have been 78 SPAC initial public offerings (IPOs). This compares to 444 for the nine-month period in 2021. A pretty significant decline in activity.
In looking at the aggregate value of SPACs, in 2022, $12.78 billion was raised. In 2021, a whopping $127.27 billion in SPAC IPOS took place from Q1 to Q3 2021.
So what's to blame for the precipitous drop in SPAC activity? Beyond the faltering economy, rising interest rates, stubborn inflation and geopolitical risk, a regulator that has taken a dislike to SPACs in their current form has undermined the once-hot sector of capital formation.
S&P points to a quote by Yelena Dunaevsky, a SPAC specialist at Woodruff Sawyer, summing things up:
"Bitter economic conditions, political unrest, repeat regulatory hits, the uncertainty of the proposed SEC rules, loudly touted examples of a few bad apples, and continued media negativity have left the SPAC market tattered and bruised."
Most SPAC deals require a firm to complete a merger or acquisition before a two-year time span is up. S&P reports that currently there 15 blank check firms nearing their expiration date with deal values ranging from $90 million to over half a billion dollars.
While SPACs have declined from their 2021 exuberance, they could still top 2020 and is far above earlier years.
If anything, SPACs proved there is a demand for alternative paths to raising capital beyond traditional IPOs. Perhaps, regulators should focus on making SPACs better instead of just fewer? Just saying…
---