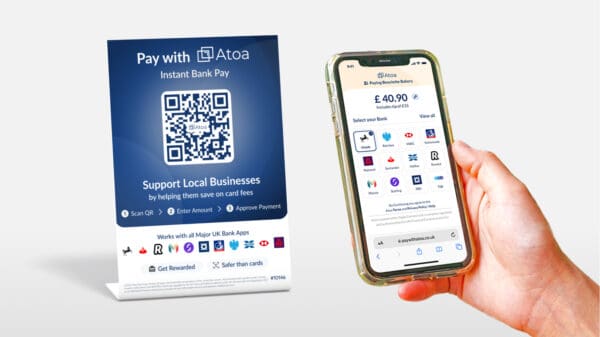 Using credit cards is convenient but costly for merchants. So much so, they just raise their prices a bit for everyone. UK-based Fintech Atoa wants to challenge the dominance of Visa and Mastercard by cratering the cost of accepting payments by up to 70%, and the company has just announced it has raised $2.2 million in pre-seed funding.
Atoa shares that since going live in June, it has experienced more than 100% month-on-month growth in terms of both Total Payment Volume (TPV) and number of merchant customers. Atoa did not provide actual numbers.
According to a release from Atoa, the funding round was led by Leo Capital and Passion Capital, along with angel investors like Matt Robinson (co-founder of GoCardless and Nested). Fintech entrepreneur Anil Stocker, co-founder and CEO of MarketFinance, will serve as a company advisor.
Atoa states that there are more than 4 million small businesses in the UK that have no viable alternative to debit card payments, dependent on the Mastercard and Visa duopoly. Atoa says these two credit card firms generate net margins of up to 51% from merchants while charging businesses up to 1.75%. Atoa plans to charge a fraction of the cost while providing instant payments as opposed to the delayed process utilized by the competition.
Atoa is an app-based service that requires a connection to a business's bank account, after which they can accept payments by SMS, a QR code, or pay by link. Customer need nothing new to make a payment. No need for any new costly hardware.
Sid Narayanan, co-founder of Atoa Payments, said they are grateful for the support from investors as they look to provide a service that will improve the economics for UK businesses.
"At a time of record inflation and in the midst of a cost-of-living crisis, the UK's small and medium merchants are struggling to contain their costs, provide great service to the customers, and maintain profit margins. Atoa is here to empower merchants and to improve their cash flow and bottom line."
Robert Dighero, Partner at Passion Capital, stated:
"Atoa has come to the UK market at the right time to leverage open banking and bring to small and medium sized merchants a truly viable alternative to payment cards and card machines that can be deployed in-store within minutes. We're delighted to work with the Atoa team after their first fintech success and look forward to partnering with them as they achieve even greater heights with Atoa."
Shwetank Verma, Partner at Leo Capital, describes Atoa's business as an obvious opportunity.
"We have seen this business model succeed in India and SEA and we're looking forward to working with the Atoa team to help them build another successful business in a massively growing market."