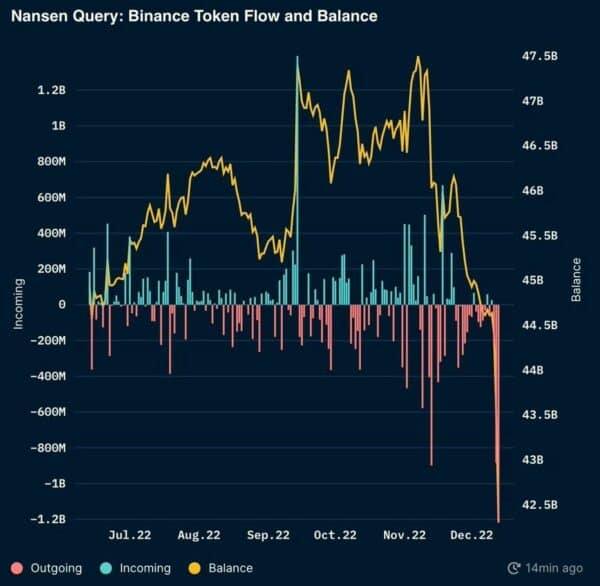 Nansen, a crypto and blockchain data provider, has sent over a graph of crypto outflows taking place on Binance. The visual charts activity from September 14, 2022 to December 13, 2022.
According to Nansen, from the last 6 months to the last 24hrs, Binance's withdrawals are increasing due to the growing uncertainty about its reserves report.  Nansen states that $2.2B  in Ethereum only has been removed from Binance during the last seven days.
Additionally, the vast majority of daily net withdrawals have happened in the last 24 hours.
Andrew Thurman, analyst at Nansen, has tweeted that Jump Trading is Binance's biggest firm pulling funds, in excess of $146 million on the week, and no inflows: $23.8m outflows of BUSD out of Smart Money Wallets in the last 24 hours.
In recent hours, Nansen has been Tweeting additional data on inflow/outflows for Binance, adding that Binance's 24 hour net outflow has increased to $3 billion.
Binance Netflow 7D ($) -3,660,311,347

8,783,380,428 – Outflow
5,123,069,081 – Inflow

Exchange Flows dashboard ⤵️https://t.co/CYrBQLryQ0 pic.twitter.com/vV6vcqoWKK

— Nansen 🧭 (@nansen_ai) December 13, 2022
Binance has claimed everything is backed one-to-one, and this is nothing more than FUD.
Binance 24H net outflow has increased to $3B

Source: https://t.co/bkRLuBPCtq

Their disclosed holdings show that they have over $62.5B as of now: https://t.co/x1ITMCFg26 pic.twitter.com/PG4C85hmSV

— Nansen 🧭 (@nansen_ai) December 13, 2022
Binance is the largest crypto exchange in the world, enabling the majority of crypto trading.

Sponsored