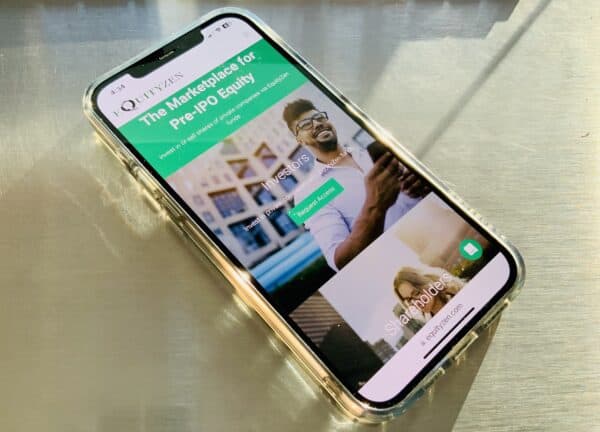 EquityZen founder and Chief Strategy Officer Phil Haslett is seeing a pick up in the secondary market, which can be seen as a precursor to traditional IPOs, according to an email from the firm.
EquityZen is a top secondary trading platform for private securities. Since its inception, EquityZen reports over 35,000 in private placements completed across 400+ companies.
According to Haslett, "strong private companies are on sale." These are private companies that are generating solid revenues along with growth and good fundamentals.
An interesting point is the average transaction is taking place with a 40% discount to the last founding round – the lowest discount they have seen. He shares that more traditional VCs and growth equity firms are coming to EquityZen to invest in these private securities than ever before. At the same time, the marketplace is experiencing 2x the inbound requests from private companies the year prior.
He believes these investors have a lot of dry powder they want to deploy.
Haslett states:
"You've got to be a company doing hundreds of millions of dollars of revenue if you want to go public in 2023. Investors are not willing to pay for the risk of the unknown anymore. The positive side, though, is that of those unicorn companies, of which there are 1000 plus, many of them are at the $100 million or even billion-dollar revenue level. Those are the companies you're going to see that are going to test the markets."
Haslett predicts they are going to see some companies come to market in the second half of 2023 as the economic environment improves.
"We saw a pretty frozen IPO market and that's starting to thaw out a little bit. But all it really takes is maybe just one or two of these bellwether pre-IPO tech companies to finally test the market. And if you've got one success, you probably open up the market for a bunch of others."
the buyers they have seen are a new phenomenon, with venture capital firms and growth equity firms buying private shares
Adding to his vantage point, Haslett says the buyers they have seen are a new phenomenon, with venture capital firms and growth equity firms buying private shares.
"Sequoia goes to a company and says, I saw you raised a $10 billion last year market, how's $5 billion, and that founder tells him to kick rocks, right? But to do that, I already have a bunch of cash on hand. And so those venture capital firms are saying, well, if I want to invest these companies at market prices, I've got to look elsewhere. And a lot of times they find that they're eager sellers in the secondary market which are employees, ex-employees and maybe your early investor that had a lot of returns on paper."
Haslett believes there are tech companies with deep pockets but cannot do an M&A due to regulation. These companies may want to go public in 2023.
"I think that's a simpler avenue for ARM [Holdings] to go through than to try to test out any type of M&A activity in the current antitrust environment. Blizzard is probably another example of where it's really hard to do large-scale M&A. You kind of think about what tools you had available as a private company about a year and a half ago, everything was at your disposal SPACs, large acquisitions, IPOs, and you've kind of got none of them. And so, as a result, you see very little activity, except we're starting to see some more activity on the secondary markets, which we typically see as a leading indicator for companies getting ready to go public."
Many sellers on EquityZen are company insiders that are holding private shares that are interested in near-term liquidity. EquityZen enables smaller investors to participate in private markets for as little as $10,000 via its funds. EquityZen reports that it has produced a 119% realized return for investors across 100+ investment exits as of 9/13/2022.

Sponsored