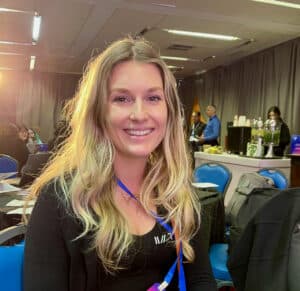 TP24 is a new digital lender that provides credit secured by borrowers' invoices. The company's mission is to solve lending challenges by "offering flexible funding solutions … without the hassle of traditional credit providers."
CI had the chance to connect with Zurich-based TP24 during the OurCrowd Global Investor Summit in Israel last week.  TP24 was at the event making the rounds as it is in the process of raising capital, and OurCrowd is one of the investors.
TP24 is a Fintech that offers a revolving line of credit for SMEs from £250,000 to £5,000,000 based on a borrower's accounts receivables. All you have to do is integrate an automated link (you can do it manually, too) using a personal dashboard. TP24 is currently operating in several jurisdictions, including its home market of Switzerland. the UK, Netherlands, and Australia – one of its most active markets. Margins are currently said to be around 50%.
Speaking with Sophie Witkamp, TP24's Group Head of Investor Relations, she explained that the company's model has generated solid success, having processed $5 billion in invoices to date with zero losses from fraud or default.
Witkamp said their biggest competitors are traditional banks that are not equipped to manage credit like TP24 because they are unable to "bank the unbankable" – something banks often cannot do because of capital requirements, risk hesitancy, or an antiquated tech stack. The line of credit is constantly adjusted – accommodating the status of current invoices. The loans are over-collateralized and topped off with insurance provided by Allianz. Because they have integrated their tech with the client, TP24 has deep insight into the risk of the platform.
The lender's current book is around $160 million, but the platform is growing quickly. Last year, TP24 generated growth of 3.5X in revenue. Witkamp described their business as leveraging a securitization model – without the actual securitization.
While TP24 reports strong results as a direct lender, the company believes the future is a SaaS model – or Secured Lending as a Service.
In the not-so-distant future, TP24 is planning on entering the US market with its Lending as a Service by partnering with other financial services firms. The company recognizes that while the US market is an enormous opportunity, the regulatory environment is a significant hurdle as multiple federal regulators must be accommodated – not to mention the byzantine regulatory nuances of every state in the Union.
While the funding round is not (yet) live on OurCrowd, Witkamp shared that OurCrowd is bullish on the platform, and its commitment is one of the largest (if not the largest) for a Fintech.
If you are an accredited investor, you may be able to participate in TP24 at some point in the near future.
Witkamp said that they anticipate becoming profitable within the next 12 months. A recent, significant deal with an unnamed bank is expected to lower its cost of capital – dramatically.
"We have really reinvented factoring," explained Witkamp.
Have a crowdfunding offering you'd like to share? Submit an offering for consideration using our Submit a Tip form and we may share it on our site!

Sponsored