At a news conference in Seattle, the ArcView Investor Network announced some of the first outside angel investments in the new legal marijuana industry which including the Wecanna a rewards based crowdfunding platform which focuses on the emergent Cannabis industry.
More than 50 high net-worth private investors heard pitches from more than a dozen companies. By the end of the day, five companies received at least $1 million in commitments—and the movement to pass more marijuana legalization laws got a $100,000 boost through educational and political donations. It is likely that over the next week or so that the total amount of investments will grow to over $2 million as investors and companies finalize various negotiations.
"Angel investors have always led the way for the investment community. It was angel investors who brought us everything from automobiles and airplanes to personal computers," said ArcView cofounder and investor Steve DeAngelo . "Today a new generation of angels—cannabis angels—stood up to make their own contributions to improving modern American life."
"As a serial entrepreneur, angel investor, and advisor in the media and technology space for many years, I am always looking to support innovation and change through not only identifying emerging markets early, but also by backing the best and brightest entrepreneurs that I am fortunate enough to meet," said ArcView investor member Sean Trigony .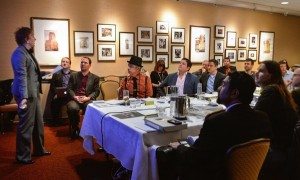 "This was my first ArcView meeting, and I was so impressed by the caliber of the entrepreneurs, as well as the investors, that I am already committed to co-investing in at least one company and am evaluating investments in a few others. I am thrilled to be finding viable investments on the ground floor of a new industry that is also making the world a freer and safer place."
"I decided to invest in both companies and political efforts," said ArcView member and real estate investor Thomas Dunker . "I think now is the time for those who believe in freedom and American enterprise to step up to the plate and make history."
"Up until now almost every business in this sector has been funded via friends and family. Today marks an important

milestone in the maturation of the next great American industry," said Troy Dayton , CEO and cofounder of The ArcView Group. "In addition to the potential for creating profit, tax revenues, and jobs, many of the investors and entrepreneurs are passionate about political change and see the development of a responsible, profitable, and politically engaged cannabis industry as a key element in hastening the day when not a single adult in the world is punished for this plant."

The event is similar to the popular television show, "Shark Tank" where each investor makes their own investment decisions but often collaborate with others in the group. The ArcView Investor Network includes billionaires, tech entrepreneurs turned angel investors, small venture capital firms, former Microsoft executives, real estate investors, some of the largest donors to marijuana policy efforts who are now turning to the business, and the owners of some of the most successful brands in the burgeoning legal cannabis industry who are looking to make strategic acquisitions.

Sponsored Links by DQ Promote