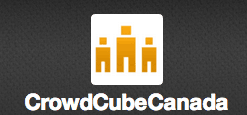 UK based equity crowdfunding platform Crowdcube is preparing to enter the Canadian  market this month.  A post on the Canadian home page of the platform stated;
Crowdcube, from our UK base, is already the world's most successful equity Crowdfunding platform and has so far raised almost $8,000,000 for 34 companies and has 27,000 registered investors.

Crowdcube Canada will launch in May 2013. If you are a Canadian based Entrepreneur who wants to be one of the first to list your business or if you are an interested investors who would like to be amongst the first to see our opportunities please register your interest now.
This will be the second market outside of the United Kingdom which Crowdcube has extended their platform to.  Earlier this year, Crowdcube Sweden was announced.
The regulatory status of equity based crowdfunding is still evolving in the  Canadian provinces.  The Ontario Securities Commission (OSC) has been holding a series of roundtable discussion to debate the merits of crowdfunding with the next session scheduled on June 11th.
Currently both entrepreneurs and potential investors may register for the Canadian version of Crowdcube.  Only accredited investors will be accepted after qualification.
Crowdcube UK has raised over £8.7 Million to date from a pool of 35,873 registered investors.  Founded in 2010, recently Crowdcube has grown rapidly funding a growing number of companies via their equity crowdfunding platform.  In April of this year, Crowdcube funded themselves with an equity round on their own platform raising £1.5 Million from 259 investors.  The valuation of the firm was placed at over £7 Million.  The additional funds are expected to be used to fuel their expansion into additional markets including Sweden, Brazil and United States.