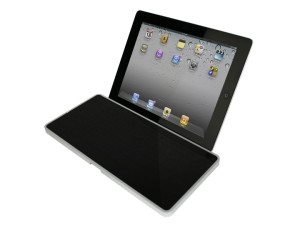 James Stumpf took to Kickstarter back in 2011 to try and raise funds for a slick wireless keyboard. It started out as a great crowdfunding story. $67,500 raised from 638 backers in a month and a half.
Measuring in at only 9.8mm thick, Levitatr™ is an aluminum Bluetooth keyboard accessory for iPads, iPhones, iPods and other devices. When ready to be used, the keys elevate out of the face of the keyboard and backlighting turns on to illuminate the key lettering. When not in use, the keys can be lowered back into the face of the keyboard and backlighting turns off, making the key lettering disappear. Built into Levitatr is an aluminum precision-machined kickstand (aka ALUMNM™) that folds out and holds virtually every mobile device between a 20 and 30° angle (depending on device thickness).
Unfortunately the project has hit hard times since completing its raise. Stumpf quickly realized that the $67,500 he raised wasn't going to be enough to see the product through the manufacturing process. He turned to the angel investor community and the local funding ecosystem near his home in Northwest Ohio. No luck.
As is almost always the case with failed rewards-based crowdfunding projects, the backers are none too happy. A selection of some of the nastier comments:
I was one of the backers in early October, 2011, and while I think the product idea is awesome, I'd really just like a refund now. This has gone on for an absurdly long time and with no real hope for it to be completed. Manufacturing issues and talks with larger companies aside, this project is unfortunately a failure.

I'd really, really appreciate a refund ASAP. Thank you.
You suck, and I choose not be respectful or considerate. You have lied and duped us from the beginning. What a scumbag.
You obviously cannot complete this project. You have an ethical obligation to refund the money to your backers, or apologize profusely and go away. But as long as you continue to "pre-sell" the Levitatr keyboard on your website it's hard to believe that you are not simply ripping people off. Your Kickstarter page should also CLEARLY reflect that the Levitatr is dead in the water.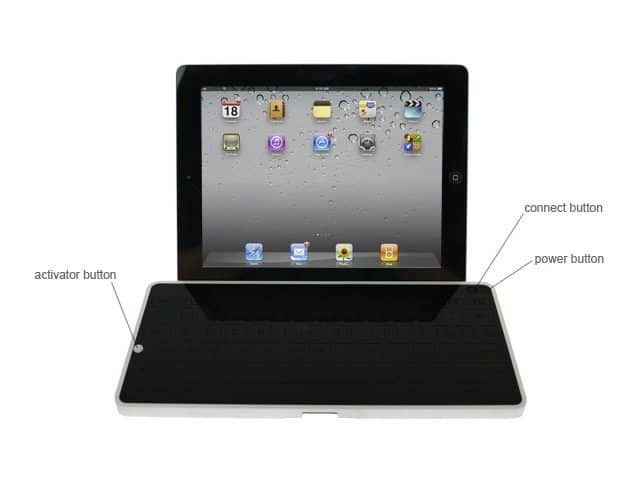 Mr. Stumpf used the www.kickstarter.com website to promote a product he calls Levitatr, ostensibly a wireless keyboard for the Apple iPad. The project was funded, and backers charged, on October 24, 2011. Mr. Stumpf has failed to produce the product, has not refunded any money, and continues to offer the product for pre-order on the www.levitatr.com website.
Kickstarter is advertised as a means for "project creators," both companies and individuals, to raise capital from "backers" in order to produce a particular product. According to Kickstarter's guidelines, once a project is funded, and the project creator has received the money raised, the creator has an obligation to either provide the product or refund the money. Kickstarter has no legal ability to force any project creator, including Mr. Stumpf, to provide the product or refund.
I believe, as do many of Mr. Stumpf's "backers," that Mr. Stumpf has committed fraud. You may refer to the comments portion of Mr. Stumpf's Levitatr page at the Kickstarter website here.
As of today, June 3, 2013, neither the Levitatr page on Kickstarter, nor Mr. Stumpf's Levitatr website, informs the viewer that the product is not in production, nor are there concrete plans for production, nor a possible shipping date.
I desire that Mr. Stumpf, who resides in Dayton, Ohio, receive a cease and desist order requiring him to either remove the Levitatr websites or prominently state on those websites that the product is not going to be produced.
I also desire that Mr. Stumpf be warned against "pre-selling" a product which will not actually exist.
I also desire that Mr. Stumpf refund money to all of his backers.
Perhaps most notable is that a couple of backers have taken it upon themselves to reach out to the Ohio Attorney General's office and file a complaint against Mr. Stumpf. (In the callout at the right) There was concern among them that the Levitatr still appeared to be for sale on the Levitatr web site, although at the time of writing this is not the case. We cannot confirm that the product was ever for sale online after being funded on Kickstarter.
I reached out to Mr. Stumpf to ask some questions about his experience and specifically what he can share in the way of advice for future crowdfunders.
Crowdfund Insider: Let's start from the beginning. You had a Kickstarter project that received a lot of great press and was eventually successfully funded. What was that experience like?

James Stumpf: It's surreal. Levitatr was thought of over a year before the kickstarter campaign launched. It's an amazing feeling to work on something so intently for that length of time and then to have it take off and for people to like the concept enough to actually want to purchase it.
I would risk it all over again for another entrepreneurial venture but some backers have this vision in their heads that I ran off with their money and am living on a yacht with gold-plated teeth. It's just not logical.
For those of us that haven't been involved in the project to date, tell us why Levitatrs haven't been shipped to backers.
Money and industry experience. We didn't raise enough money to turn levitatr into a manufactured product. The keyboard was originally designed from the ground up with all new components. That was a mistake. It would have been wiser to launch the kickstarter campaign with a compromised design that could have utilized off-the-shelf components from Asia that Levitatr could have been designed around, albeit not as slick as the original concept. I wanted a no-compromise design but didn't have the funds to create it.
There are a handful of backers that have used the comments section of Levitatr's Kickstarter project page as a sounding board for their own frustrations. What has it been like to see that kind of a response?
Thats what the comments are there for so I'm not upset that backers are using that tool to voice their frustrations. It's not fun seeing negative comments about the project but I don't feel the negative comments are unwarranted.
Many have asked for refunds. It seems that at one point you had used March 31st of this year as a sort of drop dead date. Your last backer update suggests you've backed off of that approach. Is this accurate?
I set the March 31st date many months in advance. When the date came there were still a ton of loose ends I wanted to follow through with so I pushed it off.
What is the likelihood at this point that backers receive their rewards? If they don't receive their rewards do you intend to refund all or a portion of the funding per Kickstarter's Terms of Service?
It's unlikely that Levitatr keyboards will be produced at this point in time. Kickstarter is a place for people to create insane things that established companies are unwilling to take a risk on. Some kickstarter projects succeed and some kickstarter projects fail. Some backers make demands that sound so simple – refund the money in full. In reality, it's not that simple. A cut of the funds went to kickstarter, a cut went to amazon payments, taxes were paid and the remaining cash went to develop the Levitatr concept. That cash is now spent towards Levitatr. Kickstarter understands this and offers alternatives to full refunds in their terms of service that project creators can offer starting with a detailed spreadsheet of what the money was spent on. Obviously, most project creators that fail probably WANT to refund their backers and I WANT to refund my backers as well. For now I will end the project with a spreadsheet (lame) but I am doing everything I can to generate as much cash as possible to make refunds a possibility, but obviously it will take some time. I am hustling hard and making progress but also have a ton of Levitatr-related debt that has to be worked through.
Anything you'd like to say to your backers and especially those that feel wronged in backing the campaign?
There is nothing I can say to the people that feel wronged by a failed kickstarter project. The idea of kickstarter is to go out on a limb and try to bring a crazy idea to fruition. As a backer you should never pledge more than you're willing to lose. A few backers are so motivated to try and make me "pay" for failing or to go as far as "expose" me as a fraud. I am already paying for failing. Society already has that feature built-in. My life is not better than before Levitatr, its worse. I had a hefty 401K, a good paying job, was debt-free, had a great credit score and a pretty stress-free life. I put that all on the line and lost. Now I am stressed to the max, my credit score has plunged, have no 401k, have debt up to my eyeballs, have gray hair at 25 and live back with my parents (super lame). I am not complaining, I would risk it all over again for another entrepreneurial venture but some backers have this vision in their heads that I ran off with their money and am living on a yacht with gold-plated teeth. It's just not logical.
Have a crowdfunding offering you'd like to share? Submit an offering for consideration using our Submit a Tip form and we may share it on our site!