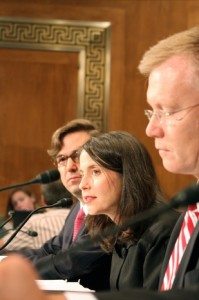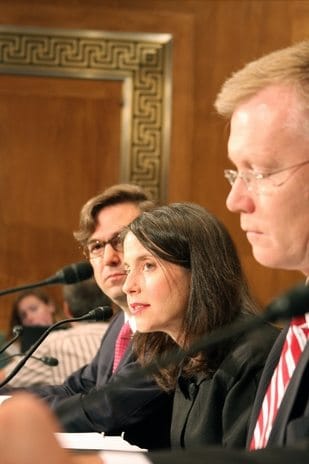 The SEC has announced that Kara M. Stein was sworn into office as an SEC Commissioner this afternoon by SEC Chair Mary Jo White.  Ms. Stein, nominated by President Barack Obama, replaces former Commissioner Elisse Walter.
"It is an honor to join my fellow Commissioners and the talented staff of the Securities and Exchange Commission as we carry out the vitally important mission of the SEC," said Commissioner Kara M. Stein.  "I am excited to join the agency that plays such a critical role in the economic well-being of our nation."
Ms. Stein received her BA from Yale and JD from Yale Law School.  Ms. Stein previously was Legal Counsel and Senior Policy Advisor to Sen. Jack Reed.  From 2009 to 2013, she was Staff Director of the Senate Banking, Housing, and Urban Affairs Committee's Subcommittee on Securities, Insurance, and Investment.  Ms. Stein was Legal Counsel and Senior Policy Advisor to Sen. Reed from 2007 to 2009 and served as both the Majority and Minority Staff Director on the Banking Committee's Subcommittee on Housing and Transportation from 2001 to 2006.  She served as Legal Counsel to Sen. Reed from 1999 to 2000, following two years as a Legislative Assistant to Sen. Chris Dodd.
"I am very pleased to welcome Kara Stein to the SEC and greatly appreciate her continued commitment to public service," said Chair White.  "Kara joins an agency comprised of some of the most dedicated professionals in public service today.  She will be a critical partner in our ongoing effort to protect investors and oversee the most dynamic and complex markets in the world, and I am looking forward to working with her."
Before working on Capitol Hill, Ms. Stein was an associate at the law firm of Wilmer, Cutler & Pickering and an assistant professor with the University of Dayton School of Law.  She was an Advocacy Fellow with the Georgetown University Law Center from 1993 to 1995, and was a Skadden Fellow from 1991 to 1993, and a visiting lecturer with the University of Nigeria Faculty of Law from 1989 to 1990.

Sponsored Links by DQ Promote