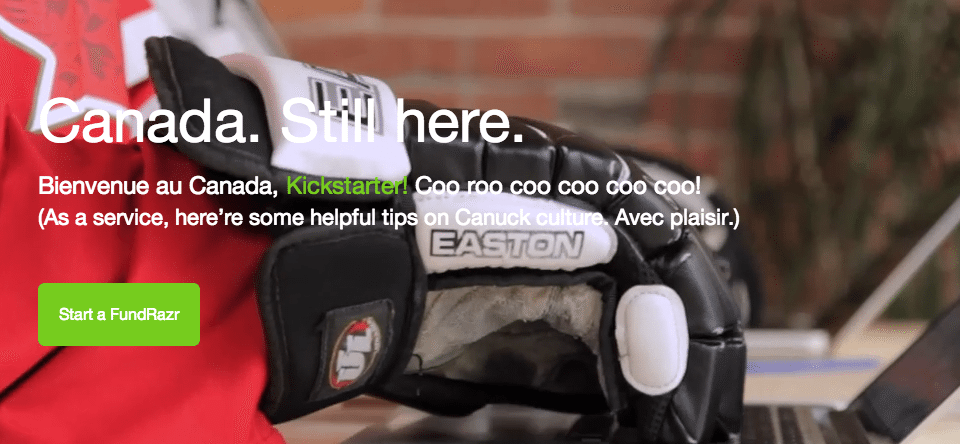 In light of Kickstarter's entry into the Canadian crowdfunding market, FundRazr posted this satirical launch page reminding Canadian crowdfunders that they've been there from the beginning.
The page offers some "helpful tips aboot the Great White North," including…
Creatives are not the only Canadians who need funds.

We love our artists (even Celine Dion and Nickelback… ok Bieber you can keep) and geeks (William Shatner, Col. Chris Hadfield). That said, charities, families, community groups, teams and average Canucks need funds too. For medical care, education, travel, emergencies, events, and being Canadian, even beavers.

Canadians are inclusive.

Kickstarter asks us Canadians to apply, maybe get approved, and maybe get promoted if the moon is in the 3rd quadrant (or something like that). That sounds elitist. For the regular Pierre or Shania, that's more like KickStopper. From Shag Harbor, NS to Climax, SK to Come by Chance, NL we all like to play by the same rules.

Penalties are for hockey, not funding.

We like hockey, eh? But penalizing Canadians for not reaching their goal? All or nothing terms and hefty fee penalties (on some Southern platforms) are like being elbowed or slashed. Where's our penalty shot! We worked hard, let us keep the funds we raised to create something amazing.