Initial Crowdfunding Goal was $50,000. Set 48 Stretch Goals.
Mars Attacks launched their crowdfunding campaign back on October 4th.  Their first objective was to raise $50,000.  This goal was crushed within minutes of their launch.  Within 3 days the campaign stood at well over $200,000 raised.
Mars Attacks, from Mantic Games, closed yesterday with a final total of $558,076 driven by the support of 2,753 backers.
The stats for this campaign were amazing.  In a backer update the organizers shared their numbers:
Wow.  Just Wow.

Mars Attacks – The Miniatures Game has been funded on Kickstarter:

– Raising over $558,000

– 2753 Backers

– 48 Stretch Goals

– 75 Updates (not including this one…)

– Over 25,000 comments

– 100's upon 1000's of messages (and most of them seemed to be tonight…!)

Thank you so much – this has been an incredible journey. An amazing first day, a challenging middle – but all of that is in the past. An incredible last weekend has brought us to this total.

During that last final flurry we got a double unlock – Beross Bel the sneaky Martian in Disguise and Agent Falco.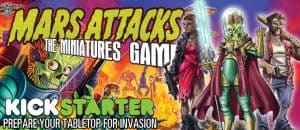 There was a "final" stretch goal with an added reward of doing "Retro Marines" with a hurdle of $560,000.  Just short on Kickstarter.  But organizers shared that backers circumvented Kickstarter and pledged via PayPal thus achieving the final stretch.
This is the 5th crowdfunding campaign from Maryland based Mantic Games and it seems like they have mastered the science of crowdfunding.
Rewards levels started at $1 (295 supporters!) and went up to $5000.  No takers at the $5k mark but the $2500 level sold out with 3 backers purchasing this reward.
Mantic Games wants to provide fantasy / sci-fi miniatures games at great value and it certain they have the fan support to claim success.
The gaming category is the highest revenue generating segment on the Kickstarter platform.  Much attention is given to video games but board / traditional games have played a significant role in the popularity of the gaming category.
Have a crowdfunding offering you'd like to share? Submit an offering for consideration using our Submit a Tip form and we may share it on our site!