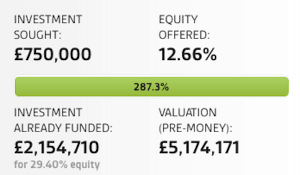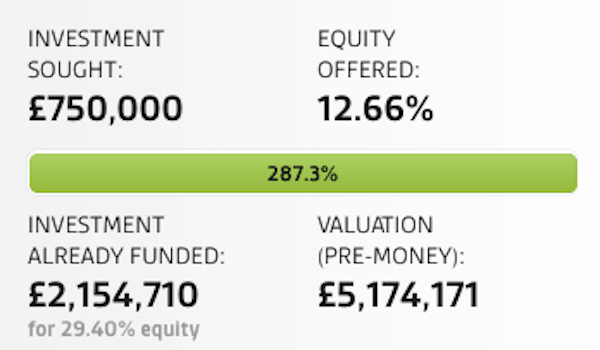 Crowdfunding platform Seedrs has closed their self-crowdfunding round having raised a record amount of funds with 850 individual investors purchasing shares in the company amounting to £2,154,710.  While the round is closed to new money the amount may increase as in-process money may not be posted.  Pre-money valuation placed Seedrs at £5,174,171.  The amount funded represents 29.4% equity in the fast growing equity crowdfunding platform.  The Seedrs campaign breaks existing records for most capital raised through an equity crowdfunding platform and for the number of investors in a single campaign.  The previous record raised was held by Hab Housing which raised £.1.9 Million this past September on competitor site Crowdcube.  Seedrs has stated funds raised will boost their pan European expansion plans which were announced simultaneously with their own funding.
The United Kingdom based startup had originally targeted a self-crowdfunding round of £500,000.  This was bumped higher to £750,000 as investor demand was exceptionally robust.   At launch the goal was reached in a matter of hours. 
Jeff Lynn, CEO and co-founder of Seedrs, said:
"We were completely overwhelmed by the support our campaign received. We see this as a tremendous validation of equity crowdfunding, our model and our business, and we want to thank everyone who has invested for joining us on our journey."

"For most entrepreneurs, raising £2m is a long, painful process. Using our own platform we've shown how startups can harness their customers' enthusiasm to raise money quickly and efficiently."
The Seedrs equity crowdfunding campaign included everyone from ordinary investors investing from as little as £10 to business angels investing up to £125,000. Investors clearly see the potential for equity crowdfunding to disrupt traditional financial services and viewed the chance to buy a stake in one of the leading players in an industry as a unique opportunity.   Some experts predict the crowdfunding industry could be worth $300bn (£185bn, €220bn) in just a few years.
Of the decision to accept more capital than initially targeted, Lynn said:
"Given the incredible level of interest our campaign has seen, we decided to keep it open for further funding at the same valuation. The significant additional capital we have secured will help us grow more quickly, and just as importantly, we want to get as many investors as we can – there are no better marketers than people with a vested interest in our success."

Lynn added: "This exciting new form of finance which allows new businesses to raise money from ordinary investors is here to stay and Seedrs securing £2m using our own platform is a vote for equity crowdfunding done properly, with protections for investors and a straightforward process for companies."
Today Seedrs has more than 27,000 registered members on its books and it has now funded £4.5 million across 51 deals in the 17 months since it launched. While Seedrs was only available to UK residents before its expansion into Europe, the company has been growing at an annualised rate of more than 600 per cent.
Seedrs was recently named in the Silicon Valley Comes to the UK's "100 Club" of businesses with the potential to generate £100 million in annual revenues in three to five years' time. This followed on Seedrs's inclusion in the FinTech 50 Watchlist in March and the Accelerate 250 group of Britain's fastest-growing businesses in June, as well as coming shortly after its launch of the industry's first ever crowdfunding "fund" in October 2013.