Yesterday we received word that Crowdfund Capital Advisors had released a research report and accompanying op-ed at VentureBeat examining some of the real, tangible benefits crowdfunding was creating for small businesses. Here are ten quick points from the report that show how crowdfunding is helping small businesses grow and access capital…
Revenues increase immediately following a successful crowdfunding round
Quarterly revenues increased by an average of 24% for companies that use crowdfunding successfully. It's much greater for those using equity crowdfunding, a 351% increase.
Crowdfunding carries a pretty handsome hourly rate of return
One hour invested in a successful crowdfunding campaign is worth an average of $813.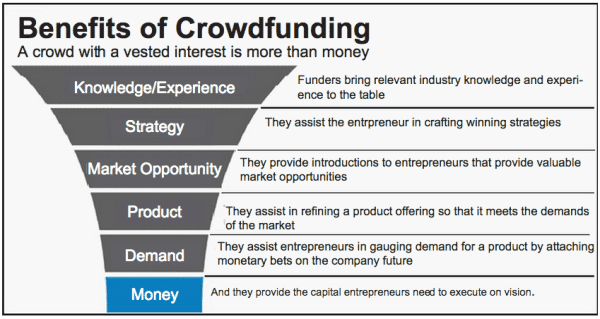 Crowdfunding often precedes follow-on funding from angels and VCs
28% of companies that successfully complete a crowdfunding campaign close an additional round of funding from an angel investor or venture capitalist within 3 months.
Crowdfunding helps companies hire
39% of companies that had crowdfunded successfully used funds to hire an average of 2.2 additional staffers. This means that every for every 100 successful campaigns of this type, about 85 jobs are created within three months.
See the full report below…