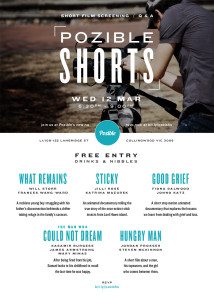 Pozible just recently moved into their new offices in Melbourne where apparently they have quite a bit of extra space.  So what better way to put that space to work than screening some really cool films that were funded on the Pozible crowdfunding platform.  Pozible Shorts is a free event and open to the public.  You do have to RSVP just in case they do run out of space.  The filmmakers will be on hand to answer questions about the film following the screening.  If you are curious about crowdfunding your film – this sounds like a great opportunity to quiz those who have already gone done that path for financing.
The Pozible Shorts is scheduled for Wednesday, March 12, 2014 from 6:30PM to 9PM.  They will be screening five short films all listed below.  Sign up for your free tickets here and head over to the new Pozible HQ.

Sticky – Directed by Jilli Rose, produced by Katrina Mazurek and Jilli Rose. An animated documentary telling the true story of the once extinct stick insects from Lord Howe island.
What Remains – Directed by Will Storr, produced by Frances Wang-Ward.  A reckless young boy struggling with his father's disconnection befriends a drifter taking refuge in the family's caravan.
Hungry Man – Directed by Jordan Prosser, produced by Steven McKinnon.  A short film about a man, his tapeworm, and the girl who comes between them.
Good Grief – Directed by Fiona Dalwood, produced by Jonno Katz.  A short stop motion animated documentary that explores the lessons we learn from dealing with grief and loss.
The Man Who Could Not Dream – Directed by Kasamir Burgess and James Armstrong, produced by Mary Minas and James Armstrong.  After being fired from his job, Samuel looks to his childhood to recall the last time he was happy.