Crowdfunding on Kickstarter, Pantheon Falls Far Short of $800,000 Goal.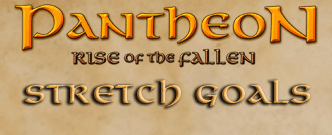 Pantheon:  Rise of the Fallen, an MMO game crowdfunding on Kickstarter, set out to raise $800,o00 over 40 days but closed their campaign having raised $460,000 – far short of their intended objective.  The campaign rifled out of the gate raising over $50,000 in the first twenty hours of the project.  Pantheon had been widely anticipated and expectations were high for a solid success.  Stretch goals were set at the very beginning of the launch as confidence was high.  The Game category is very popular on Kickstarter and is the most successful segment of their business having raised around $190 million to date – besting the 2nd most successful category – film and video.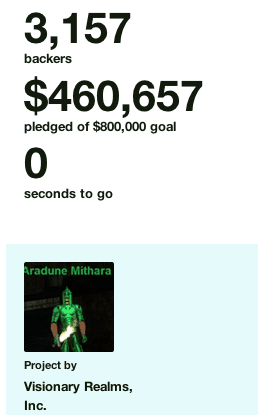 Raising over $400,000 from more than 3000 backers is no small task.  While the project had solid momentum in the beginning the disappointment was shared by the project organizers and many backers as some questioned the structure and organization of the crowdfunding campaign.  Pantheon quickly shifted focus to a self-crowdfunding campaign capitalizing on a strategy that has seen growing use within the gaming category.   As of this writing the campaign hosted on the Pantheon site was already into six figures with more than 1000 contributors.  Without the time constraints of a Kickstarter campaign there is hope this process will be more successful.
In a backer update at the end of the campaign, when it became clear the goal would not be reached, the Pantheon team thanked all of their supporters for their commitment to the game.
With a little over four hours to go on the Kickstarter, we wanted to let you all know of our new website, which is now available for pledging to Pantheon: Rise of the Fallen. After the Kickstarter we'd like to invite you over to PantheonRotF.com where you'll be able to pledge directly to the game. Should the Kickstarter not fund, no pledges from it will be charged, so the reward tiers have been copied over from those on Kickstarter, and there are a few new options as well….

…We wanted to take another moment to thank all of you for your support of the game thus far. Through your feedback during the Kickstarter we've been able to gain a lot of valuable information in moving forward. We're very grateful, and look forward to seeing you all again really soon! The Kickstarter may be coming to a close, but the game is just getting started.

Pantheon is a project by Visionary Realms,  a game studio created by well known creator Brad McQuaid who has been involved in the gaming industry for over 20 years.  McQuaid was involved with some high profile gaming successes, such as the EverQuest series.  Visionary Realms was created in October of 2013 where work on Pantheon was immediately started.
In hindsight it was clear the goal was set too high or perhaps they should have used the Indiegogo platform:
As you probably know by now, we were able to bring in a little over half of our Kickstarter goal during our 40 day campaign (~3100 people pledged, ~$450,000 raised at the time of this writing). Obviously, we would have preferred to have met our goal of $800k because the way Kickstarter works, if you don't achieve at minimum your goal, you end up with nothing. In 20/20 hindsight we should have both used a smaller goal and also one of the other crowdfunding sites out there that lets you keep the money, even if it's short of the original goal. A smaller goal would have been fine – we came up with $800k as it would have given us a good amount of time to find some office space, get the game itself further along, and then issue some much needed paychecks to the team. That said, $400k would still have been great. Isn't 20/20 hindsight a wonderful thing?
Pantheon has admitted they had not completed the necessary due diligence to create a successful crowdfunding campaign.  But even without the Kickstarter success, McQuaid and his team remain committed, and very excited, about  developing and financing Pantheon Rise of the Fallen.
Have a crowdfunding offering you'd like to share? Submit an offering for consideration using our Submit a Tip form and we may share it on our site!