Most crowdfunding campaigns will fail to reach their funding goals, but that isn't a bad thing. The crowd's ability to vet campaigns and pick winners is just one of the many facets of "crowd wisdom." Having said that, it helps to understand what successful campaigners do to win at the crowdfunding game.
One recent study aimed to explore one specific aspect of crowdfunding campaigns in this context, that aspect being project updates. How does update frequency correlate to crowdfunding success? What about the content of the updates being shared? What are the most successful campaigners doing?
The report examined 21,234 public campaign updates from 8,529 Kickstarter campaigns. Those campaigns were broken down into their core sentences and words and Latent Dirichlet allocation (LDA) was applied in an effort to find "hidden themes" in these updates and determine trends.
So what were the findings?
Campaign updates were eventually divvied into seven basic themes. (Click the images below for a full view)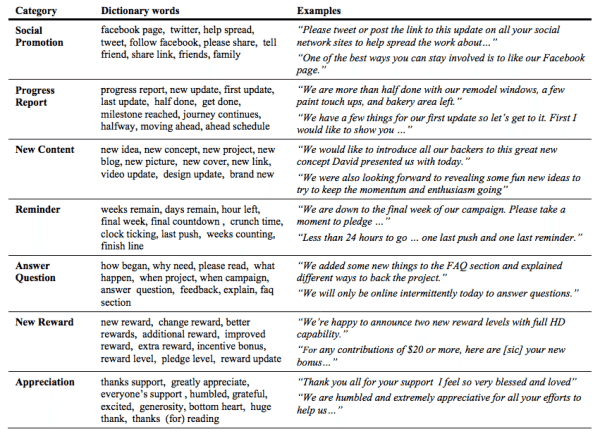 Some of the most popular words and phrases used in each type of update are highlighted. The most popular of the types were "social promotion" updates, representing 23% of total updates.
As for the type of update that was best able to predict success, reminder-themed updates took that crown. Those updates reminding people they only have 24 hours to pledge, or updates reminding backers to bring friends in before it's too late may seem like nagging, but don't be fooled. They work!
Progress report-themed updates were second followed by new rewards and social promotion. The report also notes that announcing a new reward via an update was more highly correlated with success than announcing changes to campaign content despite the fact that changes to content were more frequently the subject of updates. Food for thought… perhaps it isn't a bad strategy to hold a reward or two back to drum up interest during a campaign.
Also note this important difference…
The success of campaigns was positively correlated with the length of the update content (title and body), while it was negatively correlated with the length of project page content. Also, the average length of the updates and project page is about 70 words and 910 words respectively. One interpretation is that updates of many unsuccessful campaigns were too short to provide sufficient information for potential funders, while the project page of many unsuccessful campaigns were too lengthy for potential funders.
A shorter campaign description page and more frequent, longer updates seem a recipe for crowdfunding success.

Interestingly, the report also points out that there are "many opportunities for systems to better support a campaign during crowdfunding activities based on the findings from our data analysis." In short, crowdfunding platforms could consider reworking their update systems to better represent the types of updates found within rather than treating all with one blanket solution.

The full report is embedded below. Thank you to Anbang Xu and the rest of the report's authors for sharing. Also, check out Voyant, a platform for soliciting crowdsourced feedback.

Show Me the Money! An Analysis of Project Updates during Crowdfunding Campaigns

Sponsored Links by DQ Promote