Crowdcube added a two day extension to Blanco Niño's successful equity crowdfunding campaign.  Targeting £60,000,  Blanco Niño closed at £123,500, overfunding by 206% with the help of 100 investors.  Campaign funding will pay for equipment and initial stock needed to get Blanco Niño up and running.  Overfunding will facilitate accelerated new market growth.
Selected as "One to Watch" by  Totally Dublin, Founder and CEO Philip Martin plans build Europe's first corn tortilla factory.  Martin spent two years researching maize, nixtamalization (the conversion of bound niacin to free niacin making vitamins more readily absorbed) and tortilla production.  Utilizing this knowledge,  in the campaign video Martin further explains growing Non-GMO maize, cooking the Irish-grown corn "true to the Aztec and Mayan process of nixtamalization… and grinding the corn in a purpose-built volcanic stone grinder… then shaping and cooking the corn dough."
Employing sustainable practices and creating solutions to help allay problems resulting from the EU's 2006 sugar beet legislation, Blanco Niño will work directly with Irish farmers, aiming to establish an authentic corn tortilla factory in Dublin, Ireland. Founder and CEO Martin, a food business entrepreneur born and raised on his own family's organic farm in north county Dublin, aims to produce and supply unadulterated and sustainably produced corn tortillas, tortilla chips and masa harina for the steadily growing Mexican food market in Europe.
Initially focusing hit efforts in Ireland, Martin and his Blanco Niño team intend to supply the retail, foodservice and food manufacturing sectors, including Martin's own successful Dublin-based Mexican restaurant, Little Ass Burrito Bar.  In addition,  Blanco Niño forecasts its growth into United Kingdom in its first year. Continental Europe will be the next site of Blanco Niño's phased basis expansion to the delight  and relief of many foodies craving authentic Mexican cuisine.
According to the Crowdcube campaign:
*In order to facilitate their accelerated expansion objectives Blanco Niño plans to establish strategic partnership with key industry distributors in each geographic region.
*Blanco Niño is seeking £60,000 for 6% of the company, and will allow overfunding to up £200,000 for 20% of the company.  Overfunding will be used to facilitate the accelerated expansion into new markets which will in turn lead to the creation of further employment within company and the planting of greater acreage of maize in Ireland.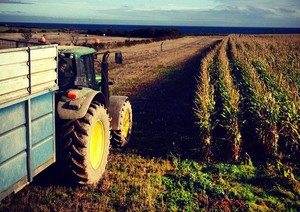 In the  Totally Dublin article, Martin reveals the origin of Blanco Niño's name, which literally means "white boy": "White child; it's kind of a slang term… I'm not the most Mexican-looking individual, and here I am trying to set up a corn tortilla factory… Rather than trying to pretend that I'm Mexican – I mean, the brand isn't Mexican. If anything, it's sort of funky, cool Irish. I'm steering clear of the stereotypical sombreros, and I'm steering clear of the harp."
A large portion of Blanco Niño investment may be tax-deductible to individuals,  pending HMRC advising, EIS (the Enterprise Investment Scheme) and SEIS (the Seed Enterprise Investment Scheme) eligibility. Relief is at 30 percent and 50 per cent of the cost of the shares respectably, to be set against the individual's Income Tax liability for the tax year in which the investment was made.
Have a crowdfunding offering you'd like to share? Submit an offering for consideration using our Submit a Tip form and we may share it on our site!