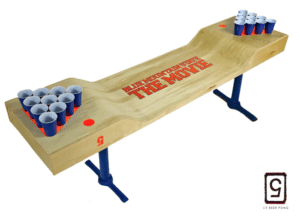 Blue Mountain State (BMS) movie, now one of the most successful crowdfunded films on Kickstarter ever, keeps pushing forward with over a week to go in the crowdfunding campaign.  The goal is to raise $1.5 million by May 15 and with over $1.1 million committed the film has a good shot of hitting its target.
BMS has enlisted universities across the country to support their project (and more than a few from outside the borders of the United States).  Contributors are being tallied based on posted comments.  Most recent estimates indicate that Penn State University and the University of Wisconsin are battling for the lead. Washington State University is a distant second.  There is plenty of time for this to all change and final numbers will not be revealed until the Kickstarter campaign has closed.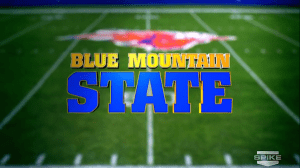 Rewards levels start at only $1 where you receive "Nothing" except the bragging right to claim that you have supported the "Greatest Movie Ever Made".
The top reward levels are for $10,000 – not a small amount.  To  date 15 people have contributed $10K where you get to choose a speaking role in the film (something your grandchildren will certainly cherish) or you may name a character in the movie (while being featured as an extra).  Most of the support was showing up at the $50 level where you get an exclusive BMS T-shirt.
Over 13,000 backers have kicked in plus thousands of comments like:
"…coworkers and I have been talking about this forever and now it's actually happening (it's like a drug infused dream come true)"

"so excited I already pledged $100 a long time ago and it's getting so close 🙂 this movie has got to happen!!! keep spreading the word everyone I wish I had the money to get higher packages haha that beer pong table is my dream."

"Come on people we are so close to the end and our goal share the story !!! Ask you parents for money!!! Something !!!! I just pledged the 750 !!! Let's do this people I need some freaking BMS in my life!!!!!!"
Blue Mountain State is the 4th most funded film on Kickstarter with Spike Lee in 3rd place.  With these type of fans – Spike may soon drop to 4th.
Have a crowdfunding offering you'd like to share? Submit an offering for consideration using our Submit a Tip form and we may share it on our site!