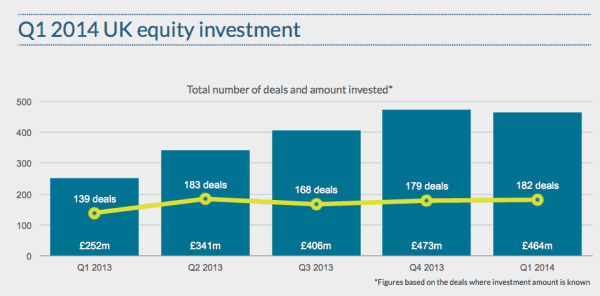 Data analytics company Beauhurst has released their Q1 numbers for equity investments in the UK and the numbers are pretty encouraging.  Recently the UK has reported positive economic numbers on multiple fronts and the Beauhurst report mirrors this trend.  This trajectory may be continuing as Beauhurst just published May data indicating a record breaking month for equity investments in the UK.

According the the publicly available summary, Q1 2014 represents the best first quarter numbers for deals since the firm started tracking back in 2010.  Traditionally things taper off in Q1 as firms recover from the holiday blitz but this year that trend was broken as deal numbers actually increased.  For the first 3 months of the year they tracked 182 deals that secured £464 million

The report talks about the "Seed stage blossoms" which are largely represented by crowdfunding. Crowdcube and Jenson Seed EIS (managed by Jenson Solutions) are specifically pointed out as leading the surge in new funding.  As delineated in the report, both firms facilitated investments in 14 young companies.  The two combined were responsible for 28 out of a total of 72 deals – or more than a third.
Jenson Seed EIS is a relatively new early stage vehicle for companies raising funding generally in  equity of less than £250,000

The summary report is available here but you have pay for the full shebang.

Sponsored Links by DQ Promote