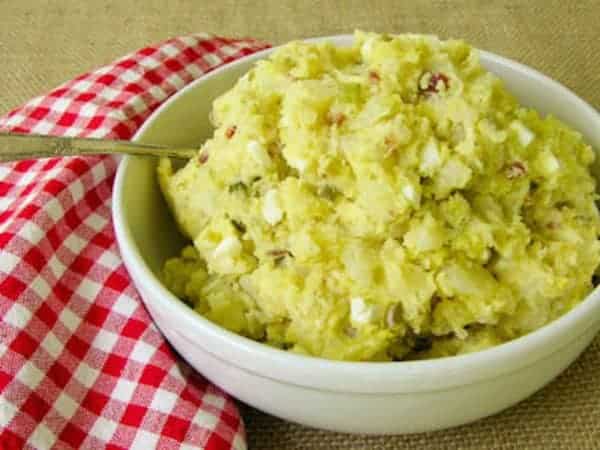 Crowdfunding Campaign for Potato Salad Rockets to Over $40,000 – Only to Drop Back Down to a Still Incredible $27,000.
Columbus, Ohio resident Zack Danger Brown certainly never expected this type of success when he launched a crowdfunding campaign on Kickstarter to raise funds to make… a potato salad. While the original goal was to only reach $10, it seems over 2,000 backers want Brown to make this delicious dish.
Incredibly on the 4th day of the ten dollar campaign the campaign shot to over $44,000 raised. After a period of time at these lofty fundraising amounts tens of thousands of dollars disappeared, apparently some of the funding was from "phantom backers".  The amount quickly dropped back to around $16,000 only to jump back to over $27,000.  The gyrating campaign still has 25 days to go.
Sharing the "details" about the project, Brown wrote, "I'm making potato salad. Basically, I'm just making potato salad. I haven't decided what kind yet."
Initial "Stretch Goals", targets that have easily been surpassed, include the following:
$35: He will make 4x as much potato salad
$75: Pizza Party!
$100: I will try two different potato salad recipes
$250: Better mayonnaise (from the natural foods section)
$300: Call a chef to get a better recipe
$350: Make way more Potato Salad and probably do a third recipe
$1000: He'll do a live stream of the potato salad making
$1200: He'll pay someone to film a thank-you video for all of my backers!
Brown also noted that if a backer donates $5 or more, he will allow them to have a piece of the Potato Salad. Top level of donation will get backers an "I Love Potato Salad" hat.
During a recent interview, Brown stated, "Potato salad is just a vehicle that brought us all together. We're all craving interaction and feeling like we're a part of something bigger. Potato salad isn't controversial, it isn't mean or snarky. Potato salad is lawful good – something incorruptible that we can all rally around." 
Brown has also stated that a lot of the details will be worked out like getting the funders to his house, but he will likely have to ship some of the Potato Salad out of the country.
Noting the risks, Brown wrote, "It might not be that good. It's my first potato salad."
The campaign is set to close on August 2nd. Delivery is scheduled for December of 2014 so far too late to enjoy this summer.
Have a crowdfunding offering you'd like to share? Submit an offering for consideration using our Submit a Tip form and we may share it on our site!