Making sure he stays true to his word, Zach Braff shared embarrassing details about giving back to those who contributed to his "Wish I Was There" crowdfunding campaign on Kickstarter.
During a recent interview, the former "Scrubs" star admitted he regrets agreeing to record voicemails for backers after a dentist asked him to take a message for his waiting room patients. Braff stated, "I had this one guy who's a dentist and he wanted me to read… a greeting for the people in his waiting room. Like, 'Welcome to Dr. Shapiro's office. Please turn off your cell phone."

He continued, "I wrote the guy back and I was like, 'Look man, I know you contributed and I really wanna do anything, but I think this is really gonna annoy your patients and I don't want your patients to hate me and they'll never see anything I do.' He was like, 'I paid good money, I want my dentist's lobby message,' so I did it. 'Hi, I'm Zach Braff, please turn off your cell phones.'"

He then added, "But I was so worried, I don't wanna lose fans over this! These poor Dr. Shapiro's patients are gonna be like, 'Oh, shut up.' It's on, like a 30-second loop in his office!"
As previously reported, some backers of the famous project revealed they are still waiting for supposed perks ranging form a free t-shirt to a live online screening hosted.
The "Wish I Was Here" campaign launched on the crowdfunding giant's platform last year and successfully raised $3.1 million from over 46,000 backers. Although some have yet to receive their perks, others are voicing their opinions on the campaign's comment section about the wrong size t-shirts.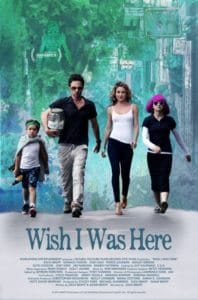 One backer stated that he contacted the t-shirt company, Kings Road Merchandise, and shared the response he received: "Our site quoted a June ship time and we apologize if there was different communication around these orders and being a little bit behind on the schedule. We have 30,000 customers with different bundles. These bundles will be shipping at different times as our inventory dictates. We fulfill the physical items as the WIWH team fulfills all screenings and soundtracks with email notifications. Your order will ship as soon as possible and we thank you for your patience and understanding."
Although international backers were able to see the screening, some stated there were few problems during the presentation. An official email from Braff stated, "Hi Backers, for the international backers who had problems viewing the screening, we are working on a solution and will be in touch with each and every one of you who let us know."
Also addressing when the other perks will arrive, Braff noted, "If you haven't received your physical rewards yet, PLEASE reach out to us by clicking 'Contact Me' on our Kickstarter Page, so we can check on where they are! If you filled out your survey on time, they have been sent! We are ALWAYS AVAILABLE at the 'Contact Me' button to answer any questions you have about rewards."
Have a crowdfunding offering you'd like to share? Submit an offering for consideration using our Submit a Tip form and we may share it on our site!