Seattle based InvestNextDoor Allows Communities to Back Businesses and Skip the Banks.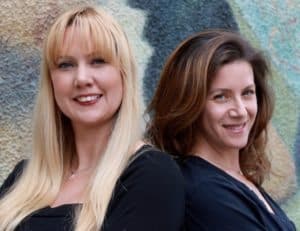 In the first 6 weeks of operations, InvestNextDoor has experienced  impressive interest in their new peer to peer lending platform that helps small business skip the banking bureaucracy.  More than 50 new listing applications are in process as InvestNextDoor.  InvestNextDoor is part of the P2P lending revolution where borrowers experience a streamlined process and investors get a higher rate of return on their investment.
"It's like crowdfunding but supporters make money instead of getting rewards," says Tabitha Creighton, CEO of InvestNextDoor.

Founded by CEO Tabitha Creighton and COO Lisa Ohman – the pair have set out to be a part of the revolution in finance that is occurring today.  Tabitha brings 18 years of experience to the company much of it in the area of financial technology and corporate development.  She spent several years working at Microsoft advising small and large companies on the use of technology.  Lisa previously ran strategic initiatives and M&A integration teams at Active Network – a software company recently acquired by Vista Equity Partners.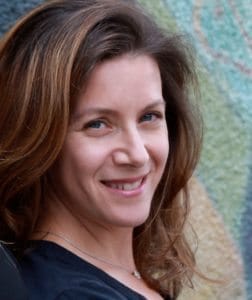 Tabitha described her vision for InvestNextDoor;
"This kind of progress demonstrates why we hit the reset button on borrowing and investing. It's no secret that small businesses succeed because they're loved by their communities – so who better to lend to them? InvestNextDoor has created a community-engaged Crowdlending marketplace. It creates a new source of reasonably priced capital for small businesses, and better returns for Main Street investors."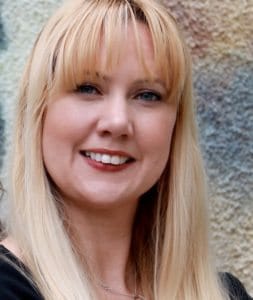 Lisa commented on the ongoing disruption of the traditional financing process;
"True crowd-based lending enhances traditional financial risk profiles with the impact of knowing the people you're borrowing from, and them knowing you. Having investors be able to walk into the shop or refer customers to help support the business they've invested in, is a model that could create a much stronger connection that amplifies the impact of the actual dollars invested. You're not just investing in that business, you're investing in their community as well – and getting market rates of return. It is complete disruption of traditional lending models."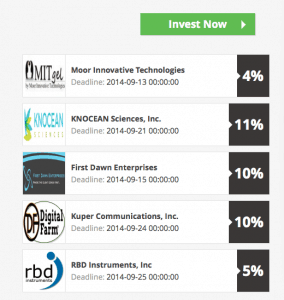 On the new platform small businesses create listings including how much they want to borrow and investors bid auction-style on the rate and amount they're willing to invest. This keeps costs low, maintains fairness and create autonomy in the marketplace. InvestNextDoor has transferred the services banks, direct lenders and VC's use for underwriting and due diligence, directly to the hands of borrowers and investors.
Tabitha added, "Our marketplace provides services only banks and Wall Street have had access to in the past. We've made it easy for businesses and investors to work together, eliminating the intermediaries. Businesses save money and investors access profit directly."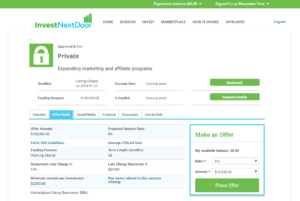 The startup believes in transparency and small businesses can find out how much it could cost to borrow right on the home page with InvestNextDoor's Instant Summary tool. With bank and credit union approval rates between 18 and 51% for small business loans1 and only 50% of private capital raises meeting their goals, small business needs more money to grow. Small business drives 50% of GDP and 50% of employment2 and a lack of capital means a slower economic recovery. The founders believe the borrowing and saving cycles are broken and out of sync with what's really needed. InvestNextDoor wants to create a win-win for both investors and borrowers.
The P2P lending industry is booming around the globe.  One industry advocate has stated publicly the expectation P2P lending will quickly become a $1 trillion industry.  While big players have entered the space, such as Prosper, LendingClub and Funding Circle – there remains plenty of opportunity for new entrants.
InvestNextDoor quotes a small business owner as stating;
"InvestNextDoor is a concept LONG overdue. Small businesses can borrow at rates better than at the bank and investors can earn more interest than at the bank. It's definitely a win-win for both parties."