This is a story that happens way too frequently.  Cool concept captures wave of crowdfunding success, crushing funding goal only to experience repeated delivery delays as backers wait and grumble. Lacking options to get a refund on their contribution they gather on the campaign comment page to commiserate about squandered money and backer regret.  In a rewards based crowdfunding campaign the liability to deliver clearly stands with the creator and their implicit contract to their backers.  While there are laws against fraud, things become gray as to when a campaign is actually fraud or just overreach from an individual who took on more than they could handle.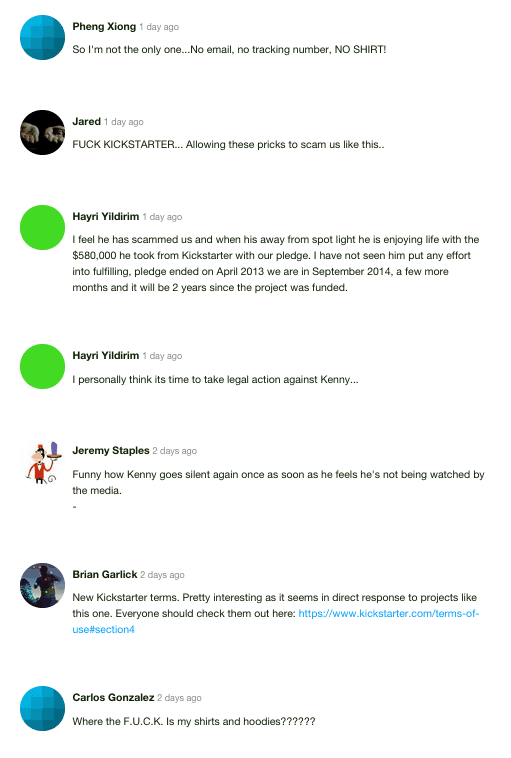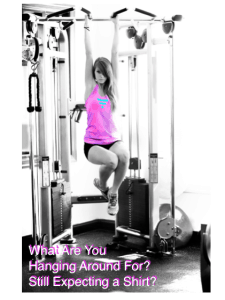 Radiate Athletics was described as "the Future of Sports Apparel".  The project was for sportswear that changes color according to your body heat, revealing muscular/ vascular action while keeping you dry.  Radiate even had an endorsement form Tito Ortiz the UFC legend.  Sites like Mashable gave Radiate a pretty solid shout out writing up the product and doing a video brief pumping the product as well.  The crowdfunding campaign launched in March of 2013 hoping to raise $30,000.  It closed the following month, 34 days later, having raised $579,599 from 8,556 backers.  In the crowdfunding world this is an unqualified success as the project creator had tapped a vein of interest from consumers.  Estimated deliver for the apparel:  August 2013.
Jump ahead to 2014 and many campaign supporters still have not received their purchased products – over one year late on promised delivery. Radiate is a company owned by Kenny Crockett. He recently spoke to WSJ.com explaining his crowdfunding plight.  From great expectations and significant demand, Crocket explained he has not been able to ship about 10,000 of the Kickstarter campaign orders.  Earlier this month Crockett stated, "he fully understands 'that waiting a year for a purchase is unacceptable,' promising to ship the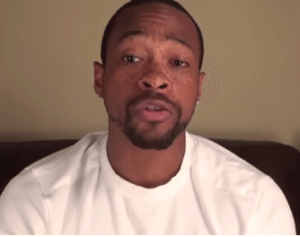 remaining orders within the next few weeks".  Crockets last update on the crowdfunding campaign page was in May of this year. Since that video explanation that "shirts have begun shipping" things have been pretty quiet on the campaign page – except for the stiffed backers.  A couple of tweets from the Radiate Twitter account have trickle out indicating first -shirts will be delivered in August.  Then at the end of August, a claim that a few more weeks are needed to get them in the hands of backers.
We are working out the final details to ship the rest of the shirts, this will be resolved in a couple of weeks. Sorry again for the delays

— Radiate Athletics (@RadiateAthletic) August 28, 2014
I expect all of the remaining shirts to be shipped by the end of August. Again, sorry for the delay.

— Radiate Athletics (@RadiateAthletic) August 1, 2014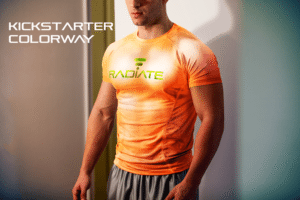 Backers talk about taking legal action but taking someone to court over a $25 shirt really doesn't make a lot of sense.  It is probably better to walk away – lessoned learned.  Several weeks ago we emailed Radiate Athletics to see if they could provide any update or clarity in their plight.  No response.  Meanwhile the Radiate Athletics e-commerc site is live – and apparently ready to take orders – if the shirts ever arrive.  This is frustrating for backers but it is also emblematic in a challenge with rewards based crowdfunding campaigns.  What do you do when a project creator does not hold up their end of the bargain?  To date there has been at least one State Attorney General willing to take a case on.  Kickstarter does not have any liability but it does not help when the users of the site feel like they have been screwed.

Crowdfunding is risky as you are backing someones vision of what may be produced.  But the reality is most people treat crowdfunding as a store.  There is probably an opportunity here for "crowdfunding insurance" or a legal litigation crowdfunding site to help backers collectively go after creators who they believe committed fraud. But for now, along with the estimated 75% of the projects that deliver late on backers rewards, it remains a buyer beware environment.

Have a crowdfunding offering you'd like to share? Submit an offering for consideration using our Submit a Tip form and we may share it on our site!

Sponsored Links by DQ Promote